Three's a crowd! Kat susses Tori has a thing for Ash in Home and Away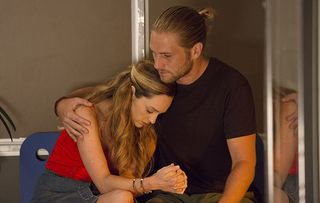 Kat tries to get back on track with Ash but reckons Tori has a crush on her boyfriend, and gets annoyed when Ash plays it down.
Poor old Tori. She's got a serious thing for Ash in Home and Away and is being used as a sounding board for his troubles with Kat, and by Kat for her troubles with Ash! Not to mention being on emergency dial to babysit Luc 24/7.
After admitting to Mason that she fancies Ash, Tori tells the troubled couple to keep her out of their love dramas and she puts a stop to the babysitting shifts. Kat, meanwhile, is convinced that Tori has a crush on Ash and fumes when Ash refuses to entertain the idea. Thing is, Ash isn't stupid… is he playing it down because he has a crush on Tori, too?
Tori has a crush on Ash… But is the feeling mutual?
Earlier in the week, Ash and Kat are trying to get back on track…
…but though the passion is still there, do they both want the same thing out of their relationship?
When a situation blows up with Brody, Ash is there to comfort Tori who's uspet over her brother's druggy saga.
But Kat is furious. There are three people in their relationship: her, Ash and Tori!
Ultimately, Ash wants a happy home for his motherless niece, baby Luc.
But Kat is more focused on her career than being a stand-in mum – and has a huge issue with Ash's bond with Tori...
Convinced that Tori has a crush on Ash, Kat tells her boyfriend he has to stop seeing her. But can Ash comply - or does he have feelings for Tori, too? Watch Home and Away on Channel 5 from Monday, August 21
Get the latest updates, reviews and unmissable series to watch and more!
Thank you for signing up to Whattowatch. You will receive a verification email shortly.
There was a problem. Please refresh the page and try again.