As Robbo stands trial, the case takes a shock turn in Home and Away…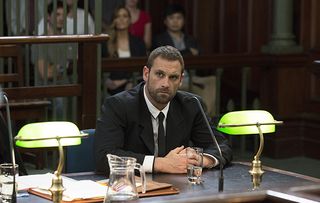 Robbo goes on trial but the case comes to a stop when he's taken from court by federal agents
Robbo stands trial. And his trial causes shockwaves when he's escorted out of the courtroom by a team of federal agents!
Tori and his lawyer, Kurt, are stunned by the twist in the tale and have no idea where Robbo is being taken - or why…
When Ash gets wind of Robbo's case falling apart, he's devastated. At the police station he demands answers from Colby who has no idea what is happening. Later, a suited man arrives at the police station, demanding Robbo's files are deleted.
At a warehouse in the middle of nowhere, handcuffed Robbo is led inside. Soon, the secrets of his past are unlocked…
Robbo is in court - but his trial is like no other…
Robbo is in court - but his trial is like no other…
Kurt wants to discuss his legal strategy with Robbo ahead of the trial.
The lawyer isn't happy when Robbo makes announcement.
Robbo has decided he's going to testify on his own behalf.
Outside the courtroom, Ash waits anxiously.
Tori tries to talk to her ex.
Ash lifts the bible to be sworn in before testifying.
Kurt cross examines Ash.
Robbo listens to the testimonies.
He's desperate for his nightmare to end.
A newspaper reporter turns out to be someone else altogether…
All of a sudden, Robbo is whisked out of the courtroom…
Federal agents have taken control of the case – and of Robbo.
Robbo has no idea what is happening - but all is about to become clear… Watch Home and Away on C5 from Monday 14 May.
Get the latest updates, reviews and unmissable series to watch and more!
Thank you for signing up to Whattowatch. You will receive a verification email shortly.
There was a problem. Please refresh the page and try again.