Is CBS All Access free with a cable subscription?
If you've already got a cable subscription you may think you've got CBS All Access. But it's not quite that simple.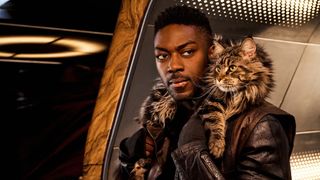 (Image credit: CBS All Access)
One of the biggest questions around CBS All Access is whether you can watch it for free if you have a cable subscription.
The answer is — yes, sort of, but not entirely.
You can watch CBS All Access if you have a cable subscription, or a subscription to one of the major U.S. streaming services that includes live TV. But that really old gets you to a live stream of the CBS feed for your local affiliate. You won't get all of the CBS catalog and new exclusives without a proper CBS All Access subscription.
You also can use this method to watch Super Bowl 2021 on CBS All Access.
Why mess with any of this, then? It's just one more way to be able to watch CBS All Access wherever and whenever you want, on your own terms.
The full subscription to CBS All Access costs $5.99 a month if you don't mind advertising with your on-demand content. For another $4 a month you can get rid of most of the ads. 
And you can save if you pony up for a full year in advance — it's $59.99 with ads, and $99.99 without ads. That'll cut 15 percent off the monthly price.
And students with a valid university email address can save 25 percent off the total.
CBS All Access is the online streaming home for all things ViacomCBS, plus new exclusives from the Star Trek world. That includes Star Trek: Picard and Star Trek: Discovery, along with The Twilight Zone and The Good Fight.
CBS All Access will be rebranded to Paramount Plus sometime in 2021.View Deal
Or do I just need a VPN?
There is all kinds of great content on CBS All Access — shows you can't find anywhere else like Star Trek: Discovery and The Twilight Zone. But maybe all you're looking for is a way to watch the things you want to watch wherever you may be, even it's outside of your usual viewing area.
For that, a VPN might well be the ticket. A virtual private network routes all of your computer's traffic through a specific set of servers in a specific country. So you can make it look as if you're still in the U.S. watching the newest Trek series even if you're outside the United States. Freedom!
But there's a catch — you need to be able to trust your VPN provider because you're going to be routing all of your network traffic through it. For that, we've been longtime fans of ExpressVPN.
ExpressVPN makes it easy to watch your favorite shows and sports (yes, CBS All Access has sports) no matter where you are, because it makes it possible for your internet traffic to be routed through your home country — even if you're on the road somewhere.
It's safe, it's secure, it's easy to use, and it's got a free trial, so you can make sure it's the right VPN for you. (Hint: It will be.)View Deal
What does signing in with my cable subscription get me?
Using your cable or streaming subscription with CBS All Access gets you a live stream of your local CBS affiliate. It's just like if you were watching your local CBS channel with an over-the-air antenna, or with your cable or streaming subscription. Only you're doing it through CBS All Access instead.
That's a bigger deal if you're doing so with a cable subscription. If you're logging in with a streaming service, you're sort of making more work for yourself. But it is another option, and options are always great.
Which cable and streaming providers work with CBS All Access?
If you have any of the following cable or streaming services listed below, you'll be able to watch live streams of CBS All Access. But you won't have access to the CBS catalog or the exclusive shows without a full CBS All Access subscription.
Here are the services that you can log in to CBS All Access with:
AT&T U-verse
AT&T TV
Altice One
Armstrong
Atlantic Broadband
BendBroadband
BEVCOMM
Blue Ridge Communications
Blue Stream
Buckeye Broadband
Consolidated
Cox
DirecTV
Dish
Frontier
Grande Communications
Great Plains Communications
Mediacom
Optimum
Paul Bunyan Communications
RCN
Service Electric Broadband Cable
Service Electric Cable TV and Communications
Service Electric Cablevision
Spectrum
Suddenlink
TDS
Vast Broadband
Verizon
Volcano Vision, Inc.
WOW!
Wave Broadband
Xfinity
Ziply Fiber
Zito Media
Get the latest updates, reviews and unmissable series to watch and more!
Thank you for signing up to WhatToWatch. You will receive a verification email shortly.
There was a problem. Please refresh the page and try again.