How to sign up for ESPN Plus
We'll show you how easy it is to sign up for the live and on-demand sports streaming service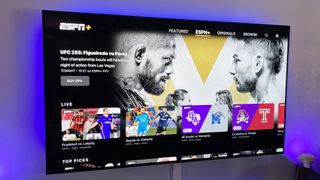 (Image credit: WhatToWatch.com)
If you've heard all the buzz about ESPN Plus, you're probably wondering how you can sign up, and this guide will help you do so.
ESPN Plus is a fantastic sports streaming service which has live sports, highlights and factual entertainment shows for sports like MLB, FA, UFC and much, much more. You can stream ESPN Plus onto your TV, phone or computer.
As a separate thing to ESPN, you don't need a cable subscription to sign up to ESPN Plus, although it's only available to US subscribers. It's big with fans since it has many exclusive sports, and even though there's no longer an ESPN Plus free trial, it's great value for money too.
Just note, that this guide will walk you through the steps to signing up to ESPN Plus on its own, but we'd also recommend checking out the Disney Bundle if you want to pair it with Disney Plus and Hulu for a big discount.
So let's get into it: here's how to sign up for ESPN Plus.
How to sign up for ESPN Plus
Visit the ESPN Plus home page.
Click the button labeled "Sign Up Now".
Log in with your ESPN.com account. If you don't have an account, you can click the Sign-Up link to create one. You can also log in with your Facebook account details.
Enter your payment information, including credit card and billing information, or choose to link to PayPal. Click "Buy ESPN+".
Check the information to make sure it is correct, and that you have selected the correct plan for you. ESPN Plus will show you how much you will be billed and when it will renew.
You will see a success page if everything has worked correctly.
Click "Get Started" to start watching ESPN Plus.
Congratulations. You're now signed up for ESPN Plus. While there is no free trial available , you can still watch as much as you want in your first month, to get as much value as possible from your subscription.
Now is also the time to download the ESPN Plus app and get yourself all set up so you can watch ESPN Plus on your TV. Don't forget to check back before the end of the month if you decide to cancel ESPN Plus and send it to the locker room. Otherwise, stick around and enjoy some of the best live sports streaming anywhere.
Get the What to Watch Newsletter
The latest updates, reviews and unmissable series to watch and more!
Roy Delgado is a freelance writer for WhatToWatch. His focus is streaming, specializing on sports. He binge-streams 32 games over the first two days of NCAA March Madness annually. He built his own DVR 15 years ago, and still tinkers to make his media setup its best.