How to watch ESPN Plus on Amazon Fire TV
ESPN Plus is a must-have streaming service if you're at all into sports. And it works marvelously on Amazon Fire TV devices.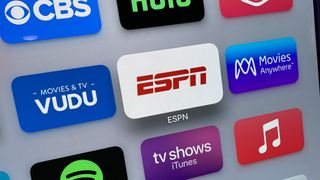 (Image credit: WhatToWatch.com)
One of the great things about ESPN Plus, the popular sports-centric streaming service, is that you can view it on a wide variety of platforms. Including, as we'll explore in this article, Amazon Fire TV.
Amazon Fire TV is a smart TV platform that comes pre-installed on some TVs, but you can also get it by using an Amazon Fire stick on any TV with a HMDI port. Streaming dongles for it don't cost much, making it very affordable.
If you've got access to Amazon Fire TV (we've got a guide on the best Fire sticks here) and ESPN Plus (perhaps on its own, or perhaps with the bargain Disney Bundle), we'll run you through the simple steps for streaming ESPN Plus on an Amazon Fire TV.
As we said, ESPN Plus is available on a wide variety of platforms, and we've got guides for some of the others too:
Is there an app to watch ESPN Plus on Amazon Fire TV?
ESPN Plus is supported across a number of devices with its own dedicated apps easy to install so its right there alongside your other favorite platforms. That makes watching ESPN Plus on TV easy — whether you're the owner of a media streamer like a Roku stick, Apple TV, or... an Amazon Fire Stick or Amazon Fire TV Cube.
Then you simply get an app to watch ESPN Plus on Amazon Fire TV. Installing it is really straightforward.
How to watch ESPN Plus on Amazon Fire TV
Sign up on the ESPN Plus website

(opens in new tab)

- it's easier to do this part on desktop or mobile
On your Amazon Fire TV, go to the Apps section
Now scroll down to the Sports category
Alternatively, search 'ESPN'
Select ESPN+ and choose the Download button
Open the ESPN Plus app
Go to the ESPN Plus section in the navigation header
Choose Log in
On your computer, log in to ESPN Plus using the activation code on your Fire TV screen
That's it. You'll now be able to watch all the things on ESPN Plus on Amazon Fire TV.
What can I watch on ESPN Plus with my Amazon Fire TV device?
Whether you're looking to get a courtside view from the comfort of your couch to watch college basketball or get a closeup of the action in the octagon in the latest UFC main card, ESPN Plus boasts plenty of sporting events that you'll be able to live stream straight through to your chosen device.
For those gearing up for another outrageous Super Bowl night, you'll be able to watch NFL on ESPN Plus throughout 2022. For hockey fans, NHL is on ESPN Plus, too, as well as many of the NBA games.
Alongside those, ESPN Plus is home to soccer, baseball, tennis, golf, boxing, and college sports. And if you want to take a deeper dive into your favorite sport, there are a number ESPN Plus originals available, including documentaries and its 30 For 30 series.
For further documentary, ESPN Plus offers its subscribers plenty of daily sports chat like Greeny, Canty & Golic Jr, and Jorge Ramos.
Not just about streaming either, you can also read 3,000+ articles about your favorite sport to get further insight and opinions on the goings on within NFL drafts, Fantasy Football picks, and other sporting news.
What other devices can I get the ESPN Plus app on?
ESPN Plus is compatible with a number of devices including:
Roku players and TVs
Fire TV and Fire tablets
iOS and Android devices
Apple TV
Samsung Smart TV
Android TV
PS4 and PS5
Xbox One and Xbox Series S|X
Chromecast
Oculus Go
Xfinity Flex and Xfinity X1
Alice is the resident eCommerce Staff Writer at Future with a focus on VPN and streaming services. She predominantly writes buying and streaming service guides, how to watch articles, with the odd phone deal thrown in there for good measure.
Thank you for signing up to Whattowatch. You will receive a verification email shortly.
There was a problem. Please refresh the page and try again.