How to watch ESPN Plus on iPhone and iPad
Want to watch ESPN Plus on iPhone and iPad but not sure how? It's just a few simple steps.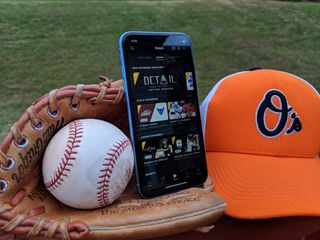 If you're a big fan of ESPN Plus, and all the live sports and original programming it offers, then you'll be pretty pleased to hear that you can access it on your iPhone or iPad, as well as your PC or TV.
You can watch ESPN Plus on your iPhone or iPad if you want to check live sports scores on the go, or view one of the many sports-centric shows offered while you're out and about.
If you need help working out how to watch ESPN Plus on your iOS device, we've written a guide to talk you through the steps, so it should be simple enough to do. We've also got guides on watching ESPN Plus shows on other devices, if you don't have an Apple one:
How to watch ESPN Plus on iPhone and iPad
Open the ESPN Plus Live Sports & Scores app

(opens in new tab)

page in the Apple App Store
Tap the Get button.
Tap Install, then enter your account password and PIN or use Touch ID/Face ID to confirm.
Download and open the ESPN Plus app.
The ESPN App will need to ask for access to permissions including location. Review the permissions and make your selection.
At the splash screen, tap Login .
Login with your ESPN account tied to your ESPN Plus subscription.
Tap the ESPN Plus button in the bottom navigation bar.
Your iPhone or iPad is now ready to enjoy all the games and shows on ESPN Plus.
Simply scroll down the ESPN Plus tab to find which games are live and coming up that day. Or you can look further down in the app to find games to watch 'on-demand', original shows and sports documentaries.
Now, go enjoy every game on the go!
Related ESPN Plus content
Roy Delgado is a freelance writer for WhatToWatch. His focus is streaming, specializing on sports. He binge-streams 32 games over the first two days of NCAA March Madness annually. He built his own DVR 15 years ago, and still tinkers to make his media setup its best.
Thank you for signing up to Whattowatch. You will receive a verification email shortly.
There was a problem. Please refresh the page and try again.