Can you watch ESPN Plus on a Vizio TV?
Yes, you can watch ESPN Plus on Vizio — but you'll need a little help.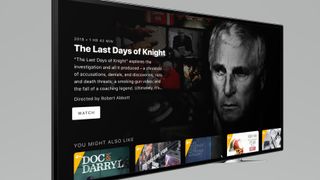 (Image credit: ESPN)
If you're an ESPN Plus subscriber and also own a Vizio TV, you might be worried to see that there's no convenient 'ESPN' button to press on your set's home menu.
One of the best streaming services for sports fans, ESPN Plus offers a large catalog of factual sporting shows, but it's most popular for the live games it airs including MLB, NHL, PGA Tour, college football, college basketball and UFC. So it makes sense that you'd want to stream these using your Vizio TV.
Unfortunately Vizio TVs can often be a little 'difficult' for certain apps and streaming services, and ESPN Plus is one of those – but there is a handy workaround that lets you use the streamer on a Vizio set.
That's where we come in. Here's what you need to know for watching ESPN Plus on a Vizio TV.
How to watch ESPN Plus on a Vizio TV
Vizio TVs are awesome because you get a really great television for a really great price. That is, the TV itself is excellent. The software that comes on it though — it's growing, but slowly. While it has a good many of the native apps you'd expect in a smart platform these days, it doesn't have everything. And one of the apps it's currently lacking is ESPN Plus.
That's the bad news. The good news is that Vizio TVs support the Chromecast and AirPlay protocols, which makes it pretty simple to fire up ESPN Plus on a phone, tablet or even a computer, tap or click a few times and watch that sweet sports video on your Vizio TV.
It's an extra step, yeah. But it's absolutely better than nothing and it's pretty simple to do.
Just start watching a video on ESPN Plus — it doesn't matter what it is or whether you're on an iPhone or an Android phone, an iPad or even in a browser somewhere. Then either hit the Chromecast icon or the AirPlay icon and select your TV as the target. The video will magically leap from your phone to the TV. (Not literally, but you know what we mean.)
You can also use a third-party streaming device to get ESPN Plus on your Vizio TV. External streaming devices from Roku or Amazon Fire TV that have access to the ESPN Plus app and connect to your TV are a way to bridge the gap and start streaming the live sports and original content that ESPN Plus has to offer.
More on ESPN Plus
Get the What to Watch Newsletter
The latest updates, reviews and unmissable series to watch and more!