How to watch ESPN Plus on your TV
Watching ESPN Plus on your TV probably is easier than you thought.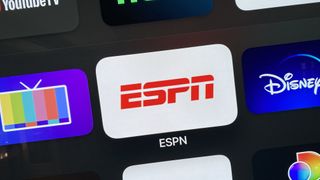 (Image credit: WhatToWatch.com)
Have a big-screen high-resolution TV and want to watch ESPN Plus on it? We don't blame you, and we're going to help you work out how to stream from this popular sports streaming service to watch all the ESPN-aired games live.
ESPN Plus is one of the best ways to watch plenty of live sports live, with the likes of NFL, college football, the other kind of football, college basketball, MLB, NHL, the PGA, rugby, MMA, boxing, cricket and more covered, but it also offers documentary series and highlights as well.
While ESPN Plus is available on plenty of devices like laptops, computers, smartphones and tablets, watching it on your TV lets you see sports on big and high-res displays.
If you want to watch ESPN Plus content on your TV, you'll need to understand how to navigate to that special content. The ESPN app is available on Apple TV, Android TV, Fire TV, Xbox, the Roku platforms, smart TVs and in web browsers, too, but the navigation is largely the same on every one of them.
How to watch ESPN Plus on your TV
Open the ESPN App on your streaming device. If it's not yet installed, get it from your device app or channel store
Highlight the settings gear icon in the upper right corner of the screen
Click to enter the settings menu
Open Account Information
Choose "Login to ESPN Account" to see your activation code
Visit es.pn/activate on your phone, tablet or PC
Follow the directions on the site to login with your ESPN Plus account
Your TV will confirm when you've successfully linked your account
Back on the ESPN TV App main screen, select ESPN Plus
Now your TV is all set up to watch ESPN Plus content. The ESPN Plus section has live content and original shows including documentaries all waiting for you. Just select the ESPN Plus section each time you open the app to see what's new.
If your streaming device doesn't have an ESPN app, you have options. If you have a Chromecast, you can cast ESPN Plus from your phone to your TV. If you have an older Apple TV, you can use AirPlay ESPN Plus from your iPhone to your TV. Or you can pick up a new streaming device that can run the ESPN app. Make sure to stop back after for help getting everything set up.
ESPN Plus is a great option to stream sports outside of a bundle. You will need to have a subscription to watch ESPN Plus sports and shows on your TV.
But if you do have an interest in bundling, ESPN Plus has that too, as it is part of the Disney Bundle, pairing it with Disney Plus and Hulu for a monthly fee of $12.99. ESPN Plus is also now a standard feature of the Hulu with Live TV streaming service.
ESPN Plus supported TVs
Here are all the supported devices that allow you to watch ESPN Plus directly on your TV:
Android TV
Amazon Fire TV
Apple TV
Facebook Portal TV
Roku
Samsung Smart TV
Xfinity XClass, Flex, X1
Other ways to watch
Get the What to Watch Newsletter
The latest updates, reviews and unmissable series to watch and more!
Roy Delgado is a freelance writer for WhatToWatch. His focus is streaming, specializing on sports. He binge-streams 32 games over the first two days of NCAA March Madness annually. He built his own DVR 15 years ago, and still tinkers to make his media setup its best.