Cult fantasy adventure, Highlander, returns fully restored in 4k this summer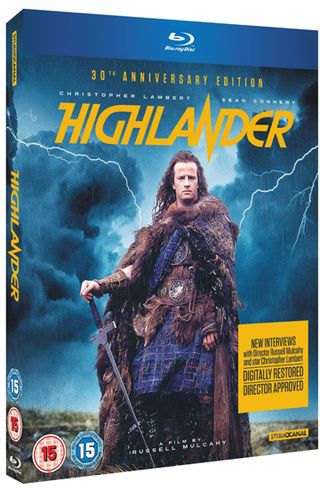 Cult fantasy adventure, Highlander, returns fully restored in 4k this summer.
To mark the 30th anniversary of the time travelling action fantasy favourite, Highlander, starring Sean Connery and Christopher Lambert, StudioCanal are releasing the cult classic restored in 4K on DVD and Blu-ray alongside a limited cinema re-release.
It's 1985 in New York City an the the Battle to end all battles is about to begin. The last remaining Immortals gather together to fight to the death: decapitation alone can kill them, and the victor alone can lay claim to 'The Prize'. Amongst the contestants is Connor MacLeod (Christopher Lambert), who fought his first battle in 1536 on the highlands of Scotland, swordsman Ramirez (Sean Connery) who mentored MacLeod and taught him the ways of the immortals, and the evil and brutal barbarian Victor Kruger (Clancy Brown)…
Directed by Russell Mulcahy and featuring an original score by Michael Kamen and Queen, Highlander went onto inspire four sequels and a TVseries. Restored by Deluxe London, based on a 4K scan of the original camera negative, and with the approval of director Russell Mulcahy, the StudioCanal release (out Monday 11 July) features new interviews with Mulcahy and Lambert, deleted scenes, a four-part 'Making Of' documentary, and an audio commentary with Mulcahy.
https://www.youtube.com/watch?v=vT13a8KzBRM
Get the latest updates, reviews and unmissable series to watch and more!
Thank you for signing up to Whattowatch. You will receive a verification email shortly.
There was a problem. Please refresh the page and try again.