Identicals (2015) | DVD release - Newcomer Lachlan Nieboer is the one to watch in this futuristic indie sci-fi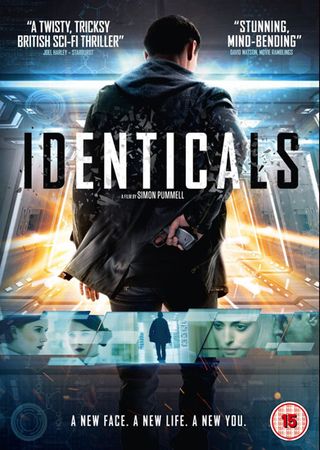 The Irish-made British sci-fi thriller Identicals is out on VOD on 15th August and DVD on 22nd August 2016 from Arrow Films
In a futuristic Britain, a mysterious organisation called Brand New-U offers customers the chance to upgrade themselves by becoming 'Identicals' – doppelgängers that may walk and talk like you, but are living much better lives than you. Good-looking lad about town Slater (Lachlan Nieboer) seems to have it all, including the love of his life, Nadia (Nora-Jane Noone). When she suddenly disappears, Slater is led to Brand New-U, where he makes a deal to take on a new identity in a bid to find Nadia. But as his quest turns into obsession, his identities start to blur, and what he must find in the end is himself…
This Irish-made British sci-fi indie thriller from Bafta-winning short-film director Simon Pummell is a brave attempt at fusing the futuristic worlds of Blade Runner, William Gibson and a Total Recall-styled story with a heavy dose of existential dramatics. Newcomer Lachlan Neibor (whose appeared in Torchwood and Downton Abbey) is certainly the one to watch, as he dominates nearly every scene as the wideboy Slater and his various doppelgängers, who operates as a conduit for Pummell's exploration about 'the strangeness of our contemporary world'.
With his brooding good looks and action man heroics, Neibor could give Jack O'Connell a run for his money (and he could be his double). As for the film itself, well it certainly looks super stylish, but it seems that Pummel (who makes his feature debut here) and his team have spent so much time on the film's production design that they've forgotten to give the film's difficult to follow story some heart and soul in which audiences can empathise. Still, it could be the making of Neibor.
Identicals is out on VOD on 15th August and DVD on 22nd August 2016 from Arrow Films
https://www.youtube.com/watch?v=Q5Px4OpXdxM
Get the latest updates, reviews and unmissable series to watch and more!
Thank you for signing up to Whattowatch. You will receive a verification email shortly.
There was a problem. Please refresh the page and try again.