Happy anniversary, Karl and Susan! (VIDEO)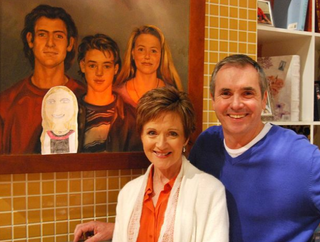 Karl and Susan Kennedy have now been residents of Ramsay Street for 20 years! As their anniversary is celebrated on screen with a nostalgic storyline involving the return of their oldest son, Mal, we look back with star Jackie Woodburne (Susan) on her two decades in Neighbours...


Congratulations for your 20th anniversary in Ramsay Street!
"It's a lovely storyline. Karl and Susan's son, Mal, comes back. He wants Karl and Susan to go and live in London with him. Dr Karl is quite keen on the idea, Susan is more reluctant. So they go through this wonderful trip down memory lane. People remind them of reasons to stay…or go. So there are some flashbacks. It was astonishing to see the episode and look back at 20 years of our lives!"
Can you remember your first day on set in 1994? Had you met the rest of the Kennedy clan before?
"Alan Fletcher (Karl) and I had met. He was in a show called Cop Shop in the early 80s and I did a guest stint as his sister. So when I found out he would be playing my husband I was thrilled. We hadn't met Benji McNair (Mal), Kym Valentine (Libby) or Jesse Spencer (Billy) before. But when I went home at the end of the day after filming I just thought, 'Wow, that chemistry really clicked.'"
Did you celebrate your anniversary on set?
"Alan and I turned up to work on the day with gifts for each other. He gave me red roses and French champagne and I gave him a vintage bottle of wine from 1994, the year we began on Neighbours."
What have been your favourite storylines over the years?
"The Susan/Karl/Izzy love triangle. Natalie Bassingthwaighte was so great as Izzy. You really got why Karl loved Izzy. To split Karl and Susan up it had to make sense he would love someone else. Izzy wasn't just the homewrecker. She had her own life as a character."
Would you like to see the whole Kennedy family reunited?
"Wouldn't that be good? I think Jesse Spencer might be a bit busy in Hollywood. He does 14-16 hours sometimes on set on Chicago Fire. But I'm sure he'd be up for it. He did the 20th anniversary. He went and found a costume in a charity shop, wrote some dialogue and got a mate to film it for him!"
How's it going with Karl and Susan's current houseguest, Nate?
"I love having other people in the house. Fletch and I both do. The more in the house the better! The more noise, the more kids, the more bedlam, that's when we love it. So to get somebody else in is great. Hopefully we will meet Nate's mum down the track. Meyne Wyatt, who plays Nate is the first indigenous actor we've had on the show and I've really enjoyed working with him. He's a real talent and one to watch out for."
Would you ever join the cast of a UK soap?
"I'd love to! I'd love to work in the UK. I think you make really good TV here. The women characters are really interesting. They are not just someone's mum or nan. They are powerful people with important jobs. Sometimes they are flawed and broken, and not glamorous. I think that is really interesting. I'd love to spend more time in London."
NEIGHBOURS, 1.45pm and 5.30pm, weekdays on Channel 5.
Watch the video chat, above, with Jackie Woodburne as she discusses the rumours surrounding the 30th anniversary of Neighbours!
Get the latest updates, reviews and unmissable series to watch and more!
Thank you for signing up to Whattowatch. You will receive a verification email shortly.
There was a problem. Please refresh the page and try again.