10 years ago in the soaps - Coronation Street, EastEnders and Emmerdale week starting 9 November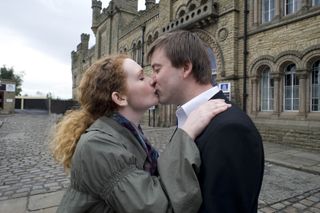 Here's what was happening in the soaps a decade ago...
From John Stape being released from prison in Coronation Street, to Archie and Peggy reigniting their romance in EastEnders and Laurel fighting for her life in Emmerdale... here is what was happening in the soaps ten years ago this week.
Coronation Street
Fiz is thrilled when John is released from prison but not everyone's pleased to see he's a free man. After he arrives back on the cobbles, Sally is fuming to see John looking happy with Fiz and, in the dead of night, she sneaks out to graffiti the front of their house.
John is forced to clean the paint off and redecorate the front of their home... and later Sally is fuming to see John working in the cafe.
Following Tony's confession that he killed Liam, Roy is torn over whether to tell the police. At first Hayley thinks it was the drugs at the hospital following his heart attack that made Tony claim he was a killer... but when Tony later threatens the pair, Hayley realises that he was telling the truth.
Roy goes to the police to report Tony and he and Hayley then quickly arrange a holiday to the Pennines to get away. But when Tony comes looking for them, it seems they're in more danger than they realised.
Also Eileen tells Jessie Chapman to drop Julie as part of his children's entertainment act, otherwise it is over between them.
EastEnders
Things are hotting up between Peggy and Archie, and although she makes a big show of throwing him out of the Vic, Peggy later sneaks over to his house for a night of passion.
Peggy later calls Pat to cancel their lunch plans for the following day, leaving Pat suspicious. Peggy lies that she has to work... but when Pat calls the number back and Archie answers, the penny drops.
Ronnie and Roxy are fuming when they discover Peggy and Archie are sleeping together and a fight breaks out between the trio in the Square, causing a scene for everyone to see.
Ronnie can't take any more and leaves Walford for a break.
Ryan asks Whitney to design some t-shirts for his new business to keep her busy before Tony's trial, and before they know what is happening an order of 500 is placed.
Emmerdale
Laurel finds herself in grave danger when unhinged Sally locks her in the church having set a fire. Laurel discovers the fire and tries to escape, only to realise that the doors are all locked and there's no way out.
Laurel rings the church bells to try and raise the alarm, and soon Ashley hears the commotion and races to save Laurel with the help of Zak.
Ashley dives into the flames to save his wife, and while he's rescuing Laurel, Sally secretly unlocks the doors.
Laurel is rushed to hospital but is later suspicious when Ashley reveals that the church doors weren't locked and that Sally was the first on the scene...
Get the latest updates, reviews and unmissable series to watch and more!
Thank you for signing up to Whattowatch. You will receive a verification email shortly.
There was a problem. Please refresh the page and try again.