A new 'whodunnit' heading to Emmerdale as major character is stabbed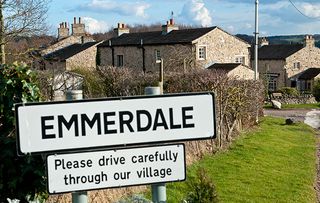 (Image credit: ITV)
Tomorrow night sees the start of a new potential murder mystery in Emmerdale as someone get brutally stabbed. But who is left for dead?
Tomorrow night's Emmerdale will see Vanessa Woodfield brutally stabbed as she tries to stop a mystery hooded figure from setting fire to the Woolpack. But will she survive?
After confronting an unknown man who is about to douse the pub with petrol, Vanessa will be left fighting for her life after she is knifed in the stomach.
But that's not the worst of it, because while Vanessa is left fighting for her life, her attacker does a runner in her car - that still has her little boy, Jonny, strapped in the back seat.
But who is the mystery man who wants to send terror through the village by setting fire to the pub?
Actress Michelle Hardwick, who plays the doomed vet, appeared on Loose Women earlier today to talk about her tragic scenes in the soap.
But while she was being interviewed, it seems she might have dropped a major hint about who her attacker might be...
https://www.youtube.com/watch?v=03jhOXWO7jk
"Belle Dingle has been targeted, I don't know if anyone saw it last night but the pig got murdered," Michelle explained.
"Bad things keep happening, so Vanessa is the one who keeps saying to Belle 'something is going to happen, it might be someone from your past' and Charity keeps saying 'stop, you're making it worse and feeding to her paranoia' and that is when they start bickering and arguing."
Does the mention of someone from Belle's past mean the assailant has something to do with Lachlan?
The killer is set to make a comeback in tonight's visit to the Dales as Belle confronts him about sinister incidences that keep happening to her... so surely it would tie in nicely if he was to do with the attack?
It was then revealed during Michelle's Loose Women interview that there are 11 suspects being lined up to be possible attackers... including Adam Barton, Lachlan White and Joe Tate!
Michelle went on to confess that the stabbing scenes were filmed on a chilly day at the end of last year... "It was November and absolutely chucking it down. I spent the whole day freezing cold and lying down in puddles."
But is this really the end of Vanessa? The actress remained tight-lipped about her character's fate...
"I can't tell you, I wish I could! I knew this was happening though. I love getting my scripts - it's like reading a book and is dead exciting to find out what is happening next.
"I don't go and see the boss often to find out what is happening, I like reading it.
"But I'd like to think I would be told if (I was being killed off). Normally if it is the end of your character you would be taken upstairs and told..."
Get ready for the next big Emmerdale whodunnit... we can't wait to see what happens next!
Emmerdale airs weeknights at 7pm on ITV, with an extra episode at 8pm on Thursdays.
Picture credits: ITV
Get the latest updates, reviews and unmissable series to watch and more!
Thank you for signing up to Whattowatch. You will receive a verification email shortly.
There was a problem. Please refresh the page and try again.