After Netflix cancels 1899, subscribers ask 'what is the point?'
Fans want to know what happened after the massive cliffhanger at the end of season 1.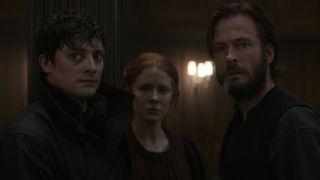 (Image credit: Netflix)
The purge of shows from streaming services that started in 2022 is continuing in the early days of 2023, as the multilingual mystery science-fiction drama 1899 was cancelled by Netflix two days into the New Year. This drew ire from fans who are now wondering what the point of subscribing to Netflix is when the streamer isn't committed to finishing the stories it starts.
1899 follows the story of a group of travelers on a steamship heading from London to New York. The passengers are immigrants from a variety of backgrounds, but they're drawn together when they encounter a second ship drifting alone at sea. With an international cast and a plot filled with lots of intrigue, you'd think 1899 would be a show worth investing in, but Netflix clearly had other plans.
The show premiered on November 17, 2022, and creators Jantje Friese and Baran bo Odar envisioned a three-season arc to tell 1899's complex story. The first season of 1899 ending featured a massive cliffhanger to lead into the second season. News of the show's cancellation means that fans won't have a chance to learn what happened after that cliffhanger, and they're not happy.
Fans across social media have been speaking out against the decision, noting that it doesn't make sense to start a story and cancel it without giving fans a chance to learn what happened. One social media user even hinted ominously at a "library of unfinished stories with no ending" and it really makes you think about all of the shows that have been cancelled after one or two seasons without a chance to bring the story to a fitting conclusion.
In terms of viewing numbers, 1899 had a five-week run in the Netflix Top 10.
Not surprisingly, fans are already calling for 1899 to be renewed or picked up by another platform. There's even a petition to save the show. The irony, of course, is that Netflix was once upon a time the place that cancelled shows received a second chance. That was the case with Lucifer and Manifest, two beloved series cancelled by Fox and NBC, respectively, that found new life on the streamer. Now the table has turned as fans hope 1899 can see a new life on a different platform.
Netflix has developed an unfortunate (but deserved) reputation for cancelling shows without giving them proper conclusions. Recent examples include Warrior Nun and The Midnight Club. The Midnight Club's creator Mike Flanagan took the unprecedented step of explaining all of the show's mysteries to fans after the series was not renewed, providing insight into where the show would have gone if given the time and space to tell it.
Get the latest updates, reviews and unmissable series to watch and more!
Editorial Content Producer
Sarabeth joined the Watch to Watch team in May 2022. An avid TV and movie fan, her perennial favorites are The Walking Dead, American Horror Story, true crime documentaries on Netflix and anything from Passionflix. You've Got Mail, Ocean's Eleven and Signs are movies that she can watch all day long.
When she's not working, Sarabeth hosts a podcast dedicated to books and interviews with authors and actors. She's also very close to realizing her lifelong dream of publishing a novel.
Thank you for signing up to Whattowatch. You will receive a verification email shortly.
There was a problem. Please refresh the page and try again.