Before the 90 Days fans confused by Mike and Ximena reunion
After the Tell All, fans and fellow castmates can't believe Mike and Ximena are working on their relationship.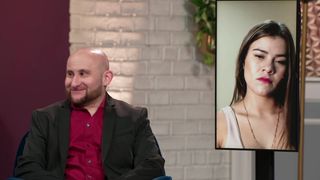 (Image credit: TLC)
As host Shaun Robinson brought the 90 Day Fiancé: Before the 90 Days Tell All to a close for the season, viewers were left scratching their heads trying to figure out what they just watched. Gino was caught in another lie (this time about how many nude photos of Jasmine he messaged people), there was an inexplicable gang up on Ella about her cheating when she wasn't the only one with fidelity issues, but the most shocking part of the season 5 reunion was Mike and Ximena.
Mike and Ximena were never the picture-perfect couple. Many times throughout the season, it looked like she couldn't even stand to be in the same room as him. In fact, by the last few episodes, she said she didn't love him, didn't want to marry him and kicked Mike out of her home in Columbia. Mike would further go on to call her every insulting name he could think of and some fans of the 90 Day spinoff were left thinking Ximena may have used Mike for his money and the two were done. So when it was revealed at the Tell All that Mike and Ximena are trying to give it another shot, viewers were left confused.
Why would the two want to get back together? Especially, when Ximena repeated last night she didn't love him. Also, how were the other couples on the stage vilifying Ximena?
So yes, Ximena was clearly happy to take Mike's money and she admitted to being mean to him at times, but Mike is the one that kept going back to her. Furthermore, it was revealed that he was the one that actually volunteered to fund Ximena's lifestyle in the first place. Not to mention, Mike was out of line when he initially refused to leave the home she shares with her kids in their last explosive argument.
You'd think the other couples knowing this information would have thrown away some of their criticism of Ximena, like Mike should have done with that dirty tissue he stuffed in the back seat of that cab (still the most cringeworthy moment of the season).
Fans react to Mike and Ximena's relationship status
In spite of the opinions of Kimberly, Jasmine and the rest of the 90 Day Fiancé: Before the 90 Days season 5 cast, fans did not jump on board the "poor Mike" train.
Get the What to Watch Newsletter
The latest updates, reviews and unmissable series to watch and more!
Terrell Smith has a diverse writing background having penned material for a wide array of clients including the federal government and Bravo television personalities. When he's not writing as Terrell, he's writing under his pseudonym Tavion Scott, creating scripts for his audio drama podcasts. Terrell is a huge fan of great storytelling when it comes to television and film. Some of his favorite shows include The Crown, WandaVision, Abbot Elementary and Godfather of Harlem. And a fun fact is he's completely dialed into the TLC 90 Day Fiancé universe.