What Was Happening at Christmas 10 Years Ago in the Soaps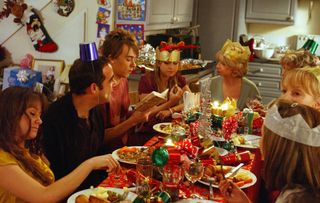 Remind yourself of all the soap drama that was happening in Corrie, EastEnders, Emmerdale and Hollyoaks 10 years ago this week. Doesn't time fly!
David Platt enjoyed reading through the stories in his granny Ivy's diary… until he got to the bit that revealed his mum Gail was planning to abort him. He saved it until the middle of Christmas dinner before confronting her with his discovery… It put a bit of a downer on the festivities!
Meanwhile, Eileen Grimshaw got an extra Christmas Day surprise when a girl called Emma turned up on her doorstep and handed over a baby. She claimed Jason Grimshaw was the dad and she was tired of looking after it!
Cilla Battersby-Brown was still spinning her terminal cancer lie and enjoyed watching Les and Yana Lumb sploshing about in a bath of peas to raise money so she could go swimming with dolphins. She's a one!
Stacey Slater had been dumped by Bradley Branning and blamed his dad Max for ruining their relationship. What better revenge than seducing Max, which she did all too easily on Christmas Day.
Bitter Pauline Fowler was planning to leave for America, but she only got as far as the Albert Square Christmas tree where she collapsed and died, with just her faithful dog Betty by her side.
Billy Mitchell talked to his poorly baby Petal as she was prepared for a serious operation. Later, with Petal's condition critical, Billy arranged for her to be baptised and, as the chaplain performed the baptism, Honey turned up. She had changed her mind and wanted her baby to be named 'Janet.'
Rosemary Sinclair was led down the aisle by her son Grayson to tie the knot with Tom King, whose own sons by this time were united in hatred for him...
But the newly-weds happiness was very short-lived because just a few hours later Tom was murdered, pushed to his death through a Home Farm window, sparking a massive whodunit.
Paddy Kirk found himself in a tricky situation when Toni Daggert mistakenly thought his Christmas present was an engagement ring… and who could blame her? Typical Paddy!
Max Cunningham was horrified when he realised that Clare had been tampering with his medication, but the police wouldn't believe that Clare was a threat to her husband.
Clare continued with her plan to kill Max, screaming to him that Tom was drowning. Max summoned his energy and dived into the icy water, but soon realised Clare had set him up. Then he blacked out, clutching his heart…
Hannah Ashworth was heartbroken after being dumped by John Paul McQueen. She turned to food for comfort and embarked on a marathon eating binge.
Get the latest updates, reviews and unmissable series to watch and more!
Thank you for signing up to Whattowatch. You will receive a verification email shortly.
There was a problem. Please refresh the page and try again.