10 Years Ago This Week in the Soaps: June 10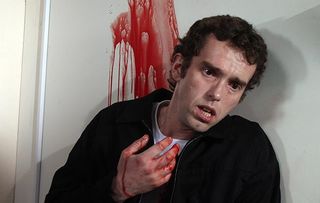 Remind yourself of all the soap drama that was happening in Corrie, Emmerdale, EastEnders and Hollyoaks 10 years ago this week!
Marlon Dingle shot in Emmerdale, David Platt announcing he's gay in Corrie, Sean Slater doing the dirty on Chelsea Fox in EastEnders and Hannah Ashworth's battle with her eating disorder in Hollyoaks… It was a dramatic time in soap this week 10 years ago!
Fiz Brown's (Jennie McAlpine) relationship with eventual-murderer John Stape (Graeme Hawley) was causing problems on the Street… This week 10 years ago, schoolgirl Sophie Webster didn't realise she was a lesbian and had a huge crush on her drama teacher, John. So, when she found out Fiz was dating him, she reacted badly and trashed Fiz's motor scooter.
David Platt (Jack P Shepherd) got that look in his eyes when he was forced to work with Jason Grimshaw (Ryan Thomas) at the builder's yard. Jason teased David about still being a virgin (well, he was only 16 and looked 12!), but David was determined to have the last laugh, and told Jason he was gay. And Jason, being several bricks short of a full load, believed him.
Emmerdale
Marlon Dingle (Mark Charnock) ended up with blood on his hands when he went with brother Eli Dingle (Joseph Gilgun) to rob a bookies…and it was his own blood! Marlon was shocked when he saw that Eli had come armed with a gun and he was horrified when Eli started threatening the manager with it. Marlon tried to snatch the weapon from Eli – and he got shot!
In total contrast to the life-threatening drama involving Marlon, there was also the comedy of Kelly Windsor's (Adele Silva) modelling job this week 10 years ago. What Kelly thought would be glamorous gig was actually demonstrating DIY tools at a shop. And she wasn't a good fit for the role… She started up a hedge trimmer and totally destroyed the set! Someone filmed it all, too, and Kelly became famous for something she was desperate to forget.
EastEnders
It was a hot June week for EastEnders 10 years ago, when Sean Slater (Robert Kazinsky) bedded Chelsea Fox (Tiana Benjamin). But, afterwards, Sean turned very cold… As he and Chelsea were putting their clothes back on, he dumped her! She couldn't believe he would do that just after they had sex. And what did Sean say? He tells her there's was hardly much point in doing it before. Ow! Oh, and he had been sleeping with her stepsister, Carly Wicks (Kellie Shirley), too.
Dawn Swann (Kara Tointon) got a good send-off from family and friends as she left Walford to start her new life with Rob Minter (Stuart Laing), father of the baby she was carrying. They were leaving behind his mad ex-wife Dr May Wright and going to stay with Rob's parents. That's what Dawn thought…but that's not what happened. Rob had tricked Dawn – and May was waiting for her, with a scalpel. The plan all along had been for them to take the baby!
Hollyoaks
Hannah Ashworth (Emma Rigby) was in the thick of her award-winning anorexia/bulimia storyline this week 10 years ago. Hannah had begun binge-eating after her boyfriend John Paul McQueen revealed he was gay and she used it during this week when she was unable to cope with the constant arguing between her parents. But all the chocolate in the world wasn't going to make her feel better, just a lot, lot worse.
It was a real passion-killer when Justin Burton (Chris Fountain) was caught by Warren Fox (Jamie Lomas) with his pants down, in bed with Katy (Hannah Tointon), Warren's little sister. Warren knew nothing about their relationship…until spiteful Clare Cunningham told him. Warren stormed into their flat and and was giving Justin a vicious beating when the police arrived and hauled him away. They had been tipped off by Clare, who was really out to get rid of her business partner, Warren. Poor Justin was just collateral damage.
Get the What to Watch Newsletter
The latest updates, reviews and unmissable series to watch and more!