10 Years Ago This Week in the Soaps: July 1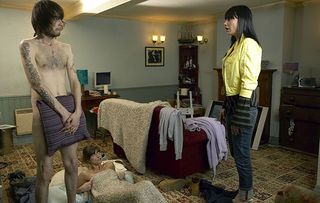 Remind yourself of all the soap drama that was happening in Corrie, Emmerdale, EastEnders and Hollyoaks 10 years ago this week. Doesn't time fly!
Ten years ago this week, Emmerdale village was still feeling the presence of Eli Dingle, especially (distant) relative Debbie, who ended up in bed with him. It also featured the start of a beautiful friendship between Carla Connor and Hayley Cropper in Corrie, the marriage of Ian Beale and Jane (for the first time) in EastEnders and a very unpleasant time for Clare Cunningham in Hollyoaks.
Emmerdale
Certain Dingles were lusting after each other during this week 10 years ago… Eli Dingle (Joseph Gilgun), definitely one of the more memorable family members, found himself locking lips with his cousin, Chas (Lucy Pargeter)…and she started it! She was using Eli to make Carl King jealous and when she was done with him, Eli moved on to the girl of his desire: Chas's niece, 18-year-old Debbie (Charley Webb).
Eli's roguish charm got him into bed with her, but their passion was killed when Chas caught them together! And Eli's heart was broken when Debbie quickly dumped him!
Mother-in-law from hell Rosemary King (Linda Thorson) was secretly trying to drive her daughter-in-law crazy…and having a lot of success. Rosemary had found out her son Grayson's wife, Perdita – 'Perdy' – Hyde-Sinclair (Georgia Slowe), couldn't have children, and the thought of not having grandchildren devastated her. So Rosemary set about wrecking Grayson (Christopher Villiers) and Perdita's marriage by meddling with Perdy's medication and making Perdy think she was going mad and preparing for a baby she couldn't have. Grayson believed it, too, when he found a bag of baby clothes – planted by Rosemary!
Corrie
Morse and Lewis they definitely were not, but that didn't stop Lloyd Mulhaney (Craig Charles) and Steve McDonald (Simon Gregson) staking out the house of their friend Eileen Grimshaw's new man, Pat Stanaway. They were convinced he was married – and they were right. But when Steve lost their coin toss and had to tell Eileen, he discovered she already knew – and he did not approve. Neither did Eileen, in the end.
This time 10 years ago saw the start of what became a very special, warm, loving friendship between factory boss Carla Connor (Alison King) and her transgender employee Hayley Cropper (Julie Hesmondhalgh). Carla was mourning the death of her husband, Rob, and Hayley was desperately trying to hold the factory together. But the machinists were giving Hayley the runaround. Carla turned up and promoted Hayley to Line Manager. Carla had faith in her and Hayley would never forget that.
EastEnders
Ten years ago this week, Ian Beale (Adam Woodyatt) married Jane (Laurie Brett) for the first time. Jane was his fourth wife and the good folk of Albert Square were wondering how and why women kept wedding him. They nearly married in December 2006, but Ian found out that Jane had slept with Grant Mitchell. Having put that behind them, they happily got wed in secret, with just Heather Trott and her friend from the meat counter at the supermarket as witnesses.
Wedding bells were also in the air for Stacey Slater (Lacey Turner) and Bradley Branning (Charlie Clement)… And Max Branning (Jake Wood) was not happy. He had been having an affair with Stacey and her way of paying him back for hurting her was to accept Bradley's marriage proposal.
Max was forced to toast the happy couple in front of his wife, Tanya, and daughters Lauren and Abi – but, secretly, he was making plans to ensure Stacey and Bradley never married.
Hollyoaks
Clare Cunningham (Gemma Bissix) had many enemies, but the one who had her pinned down this time 10 years ago was her ex, Max Cunningham (Matt Littler). Spiteful, vengeful Clare had convinced Social Services that young Tom was being abused by his half-brother Max. So there she was, fresh out of hospital from an attempt on her life by a mystery assailant, when Max broke in and promised he would kill her if she didn't eat her soup and, more importantly, tell Social Services she had lied about Tom's abuse.
Darren Osborne (Ashley Taylor Dawson) was in a very tricky position… He fancied Zoe Carpenter (Zoe Lister) but he also knew that his best friend, Zak Ramsey, had been lusting after Zoe for months. So Darren was trying to hide his feelings from Zoe and was ignoring the hints she was dropping that confirmed she fancied him, too.
Getting nowhere with her subtle approach, Zoe just went for it, trying to kiss Darren. And when he backed away, so did she, hurt and confused.
Get the latest updates, reviews and unmissable series to watch and more!
Thank you for signing up to Whattowatch. You will receive a verification email shortly.
There was a problem. Please refresh the page and try again.