Coronation Street spoilers: Tim MURDERS Duncan in shock twist?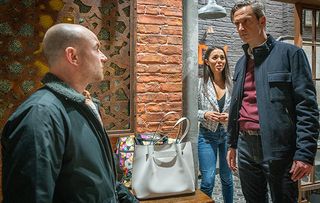 "It's almost a crime of passion," says Joe Duttine, who plays Tim
Tim's quest to prove Sally is innocent goes spectacularly wrong in Coronation Street when he lunges at Duncan who is then hit be a speeding car!
With Duncan struck hard by the motor, it looks like the conman could be off to meet his maker, meaning that Tim may find himself on a murder charge – and potentially joining Sally in jail!
The build-up to the dramatic moment in Coronation Street next week starts on Monday when Gina does some snooping in Duncan's flat.
When Duncan returns home, she's forced to hide under his bed. Later, she follows him to a phone box and overhears something stunning which could change everything.
After finding out what Gina heard, Tim then hot foots it off to the police station. Joe Duttine, who plays Tim in the ITV soap, reveals his character is desperate to get Sally released.
"He's got to try and get Sally out of prison – Tim can't cope on his own, let's face it!"
But the police want hard evidence – namely Duncan confessing everything and Tim looks like he's back to square one.
Tim then decides he has to take drastic measures - he's going to beat a confession out of Duncan!
However, when Tim confronts the conman, Duncan ends up being whacked by a car. "Tim pushes it, but it's almost a crime of passion," says Joe.
So, will Duncan die in Coronation Street? Meanwhile, Joe has revealed that he'd like some more light-hearted scenes for Tim in Street Cars. "I love that taxi-rank banter," he says.
"I'd like to see more of it, and I think viewers would like to see a bit more of it – it's light hearted stuff."
Coronation Street continues on ITV.
Get the latest updates, reviews and unmissable series to watch and more!
Thank you for signing up to Whattowatch. You will receive a verification email shortly.
There was a problem. Please refresh the page and try again.