Couch Potato Pickings | Top Gun: a film for everyone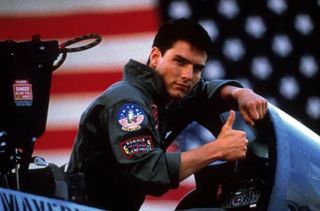 When this aerial action fest hit cinemas in the 1980s it was all the rage. My best friend had a huge Tom Cruise poster pinned above the decorative headboard of her all-the-rage divan bed. She was obsessed. My girlfriends loved him. Their boyfriends wanted to be him. It was all very heterosexual.
Or so I thought.
As the years have gone by, it's become quite evident that there were also loads of men who loved Top Gun for its plethora of handsome stars and the perceived homoeroticism of those male bonding scenes. Who can forget Will Young's homage in the music video for his song Switch It On?
And then, of course, there were all those blushing schoolgirls who had secret crushes on Kelly McGillis - loads of them. And, since it's less than two months since the actress came out of the closet, I suspect that the McGillis admirers, more than any of the film's other fans, will be the ones staying in tonight to revisit those old heart-fluttering memories.
Oh it's so much more than just aerial action. This film truly does have something for everyone.
Showing on ITV1 tonight at 10.15pm
Get the latest updates, reviews and unmissable series to watch and more!
Thank you for signing up to Whattowatch. You will receive a verification email shortly.
There was a problem. Please refresh the page and try again.