Danger for THIS Emmerdale resident as someone does the unthinkable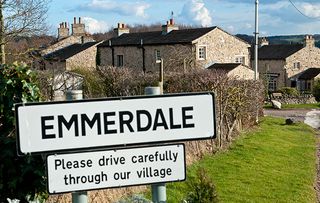 (Image credit: ITV)
There's trouble for Emmerdale's Dawn Taylor next week when Robert Sugden puts her in serious danger...
Next week's Emmerdale sees Robert Sugden's bid to get revenge on Victoria's rapist take a sinister turn when he uses Dawn as bait to prove that Lee has got it in him to attack another innocent victim.
Emmerdale fans have seen Victoria Sugden struggling to come to terms with her attack, which took place after a night out in town with her friends.
But no matter how much she tries to more forward with her life, she is constantly being reminded about what happened thanks to Lee Posner's mum, Wendy, turning up in the village every five minutes.
There is also the small matter that Victoria is pregnant with Lee's baby following the attack, and having made the decision to continue with the pregnancy, she will constantly be reminded of what Lee did to her.
But while Diane is supporting Victoria in her bid to keep her baby and move away from the village, her brother Robert isn't happy about Victoria being chased out of the village and has made it his mission to get proof for the police that Lee is a rapist.
Sadly for Victoria there hasn't been enough evidence that Lee attacked her for the police to charge him... but Robert is determined to change all that and sets up a honeytrap for Lee, using Dawn as bait.
When Robert realises that Dawn wants to earn cash so that she can support her son Lucas, he gets the idea of paying her to flirt with Lee at a pub.
Robert offers Dawn £500 to get Lee interested in her, and tells her to make sure there is plenty of CCTV in the pub to catch everything on camera.
More: Terror for THIS Emmerdale legend after shock collapse
But when Dawn realises just how dangerous Lee can be, she asks Robert for more money.
Eventually the pair agree on a deal and Dawn heads off to find an unsuspecting Lee in a pub... but when Aaron finds out what his other half has done, he's horrified at the danger Robert has put Dawn in and races to put a stop to the plan.
But Aaron and Robert aren't quick enough, and Dawn has already met Lee and is working her charm on him.
Robert's plan is working a treat but when Lee asks Dawn if she would like to go somewhere a bit quieter with him, she panics that she is about to find herself in a seriously dangerous situation.
Will Aaron and Robert be able to find Dawn before Lee strikes again?
Emmerdale airs weeknights at 7pm on ITV, with an extra episode at 8pm on Tuesdays and Thursdays.
Get the latest updates, reviews and unmissable series to watch and more!
Thank you for signing up to Whattowatch. You will receive a verification email shortly.
There was a problem. Please refresh the page and try again.