EastEnders fans shocked to discover Keanu Taylor's age! Almost as much as Sharon!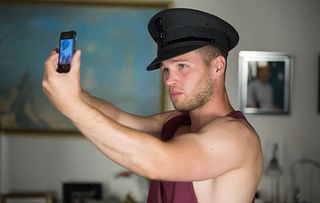 (Image credit: BBC)
Sharon is freaked out after finding out how young Keanu is and in tonight's episode will tell him that he's too young for her
EastEnders viewers – and Sharon Mitchell! – were stunned to discover last night that Keanu Taylor is only 19!
In yesterday's EastEnders, Sharon (played by Letitia Dean) seductively told Keanu: "Looks like I forgot to put my clothes on – again." To which Keanu replied: "It's all right, I don't think you'll need them!"
Then, Sharon produced a chauffeur's hat, telling Keanu that he was going to be her "chauffeur with benefits." To Sharon's delight, Keanu then lifted her up onto the table...
Later, though, Keanu told Sharon that he was "an idiot" because he thought anyone could drive a minicab, "but you've got to be over 21".
Stunned Sharon said, "But you're…" and Keanu dropped the bombshell, "I'm 19". Sharon's face was priceless as she took in the news that her bloke was a teenager!
And many viewers who also didn't know his age rushed to Twitter to express their shock. "Wait Keanu's only meant to be 19?? No wonder Sharon is surprised, he looks at least 25." Another wrote: "Keanu is supposed to be 19? Really?"
Just to make her feel even older, later in the episode Sharon is flabbergasted to learn that Keanu has never heard of classic hit "I want to Know What Love Is" by Foreigner when it comes on the car radio. "I think it's before my time," said Keanu, to a now seriously worried looking Sharon, who then decides to get her hair done on another day.
It's not entirely surprising that EastEnders viewers and Sharon think Keanu looks older than 19 as actor Danny Walters is actually 25. Meanwhile Letitia Dean, who plays Sharon, is 50 in real life.
Meanwhile, in tonight's EastEnders Sharon continues to be freaked out by how young Keanu is and keeps her distance. After demanding to know why she's avoiding him, Keanu is left gutted when Sharon says she's too old for him.
EastEnders continues tonight on BBC1 at 7.30pm.
Get the latest updates, reviews and unmissable series to watch and more!
Thank you for signing up to Whattowatch. You will receive a verification email shortly.
There was a problem. Please refresh the page and try again.