Cain KILLS Moria as her affair is exposed? Emmerdale star Jeff Hordley teases the explosive action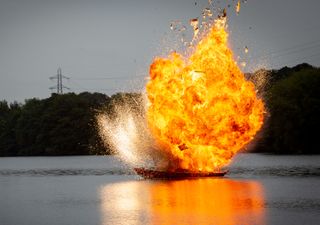 There are explosive scenes in Emmerdale when Cain Dingle finally realises his wife Moira has been sleeping with Nate right under his nose – mainly in the hunky farm hand's caravan parked up at Butler's Farm!
Emmerdale tough-nut Cain has been blissfully unaware of what's been going on between Moira and Nate, so it comes like a bolt out of the blue when he finds out that they have been having an affair and in true Cain Dingle style, he sets out to get his revenge – with potentially fatal results!
Here, Emmerdale favourite Jeff Hordley, who plays the betrayed husband, tells us more…
Does Cain really have no idea about what's been going on?
Jeff Hordley: "He's completely oblivious. Yes, Nate's young, fit and good looking, but for Cain, he's just some young farm hand. The idea that he could be sleeping with his wife doesn't even enter his head. Cain and Moira have had a rough few years but they have come through it, so as far as he's concerned, they're strong."
How does Cain find out about the affair?
JH: "His mum Faith tells him that Moira's having an affair with Pete. She says she's seen them whispering together and doing things that people having affairs do. Cain's reaction is initially one of disbelief; he can't believe that Moira would do that with Pete again."
What does he do next?
JH: "Cain and Moira are meant to be going to an agricultural show so they can spend time together and have a night away. But then he drops the bombshell he's not going. He says it has something to do with Chas, but secretly he plans to sort Pete out. So in his infinite wisdom, Cain sends Moira off to the show with Nate. He has no idea what he's actually doing."
What does he do to Pete?
JH: "Cain tells Pete he needs him to stay on after work and do something for him, but when Pete get to the house, Cain punches him, knocks him out and then ties him up in a chair. He intends to do some serious damage to Pete, who's so scared about what Cain will do, he ends up saying 'It's not me, it's Nate!'"
WHAT IS ON TONIGHT? Check out our NEW and improved TV Guide
So the penny finally drops!
JH: "Yes, it's a major penny dropping moment. When he realises Pete's telling the truth, Cain remembers that he's sent Moira and Nate off for the night, so he can sort out Pete. It's a bit of a Homer Simpson 'Doh!' moment! He's had absolutely no idea until this point."
What does he do next?
JH: "The red mist descends when he finds out. He turns up unannounced at the hotel where Nate and Moira have spent the night together. They are a little shocked, but he puts on a pokerface and uses his charm to get them to join him on a fishing trip. Moira knows something is a miss, but he's says, 'Come on, I've hired the boat for the day, forget the agricultural show, let's do this'. I think Nate is thinking 'okay, truth time. Come on let's get on the boat. I'm gonna tell you what's going on.' I don't think he's scared of Cain."
There's a bit of a showdown on the boat, isn't there?
JH: "Yes. Nate may be younger, fitter, stronger and taller, but they are fairly equally matched as Cain is very fired up. He finds this inner strength to exact his anger and his frustrations certainly come out. Moira gets caught up in it, too."
Some scenes have been filmed underwater. How did you find that?
JH: "I love snorkelling, going under water and seeing marine life when I'm on holiday but this was a bit different. Part of it is having to get used to opening your eyes underwater. That was a big challenge for me because your visibility goes. I could literally only see a hand if it was near my face. Natalie, who plays Moira, had the tough job because she gets caught up in weeds. I don't often get the chance to do things like this. The thing is not to overthink it."
There's an explosion, too…
JH: "That was spectacular. They shot the explosion from various angles and with a drone from above. As a whole sequence with all the stunts and with the explosion cut together I think it is going to be really exciting and dynamic and beautiful to watch."
Emmerdale continues on ITV.
Get the What to Watch Newsletter
The latest updates, reviews and unmissable series to watch and more!