'Robron wedding day wooo!' Emmerdale fans ecstatic Aaron and Robert are FINALLY getting hitched TONIGHT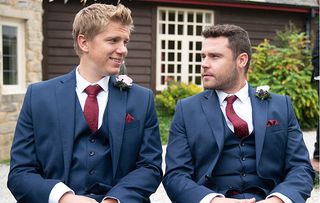 "I really have to work today... BUT I CAN'T! I am a mess." Robron fans counting down the minutes until the Robron wedding
There's only one thing Emmerdale fans want to talk about today - the Robron wedding!
At last, after countless ups and downs, it's time for Robert Sudden and Aaron Dingle to legally put a ring on it in tonight's Emmerdale.
Not everything, of course runs smoothly, as Aaron (Danny Miller) is devastated about his tiny baby sister Grace who was born earlier this week and died the same day.
Aaron doesn't feel it's the right time to be celebrating, but his grieving mum Chas says that the wedding should go ahead and be a happy day.
Apart from being worried about Aaron, Robert (Ryan Hawley), has his own troubles as his sister Victoria Barton (Isabel Hodgins) is furious that he and Aaron have been lying to her about her on-the-run husband Adam, and she's refusing to attend the big day. Robert doesn't want to get wed without her.
But, luckily everything eventually goes to plan and Emmerdale fans rushed to Twitter as they countdown to the huge moment. One wrote "Robron wedding day wooo," while another went: "I really have to work today... BUT I CAN'T! I am a mess today." While one viewer Tweeted: "It's happening… We waited so long it's finally Robron Wedding day!!"
Talking about what viewers can expect in tonight's Emmerdale, Ryan told us: "They write their own vows and they wear suits. Chas goes to a lot of effort to make it a really special occasion, and there's a scene where Robert and Aaron come back from getting their suits and she's there with with Faith, and they've been spending the whole day getting the decorations ready. They're a lot classier than last time! And baby Seb is obviously an honoured guest, and he has a particularly cute little outfit on."
And he added it will be an upbeat episode, saying: "It's one of the very few occasions in the show where people get to be happy without any interruptions. Obviously, there's the background of what's gone on with Grace, but it's a very positive episode. Obviously, everyone is affected by what has happened and people make their feelings felt, but it's a nice wedding."
Don't miss the Robron wedding in Emmerdale tonight at 7pm.
Get the latest updates, reviews and unmissable series to watch and more!
Thank you for signing up to Whattowatch. You will receive a verification email shortly.
There was a problem. Please refresh the page and try again.