Emmerdale's Danny Miller and Ryan Hawley on the Robron wedding - and they reveal their married names!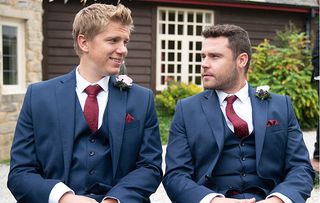 'It's one of the very few occasions in the show where people get to be happy!'
Emmerdale fans rejoice! Four years after their first steamy kiss on that country road, and twenty months after they unofficially exchanged rings in Cain Dingle's garage, the much-anticipated Robron wedding finally takes place next week, as Robert Sugden and Aaron Dingle finally get properly hitched in front of friends and family.
The loved-up pair are thrilled at the prospect of becoming a bone fide married couple, but the occasion is tinged with sadness; coming just a few days after the birth and subsequent death of Chas and Paddy's baby daughter, Grace – Aaron's half sister.
We caught up with actors Ryan Hawley, who plays Robert, and Danny Miller, who plays Aaron, to get the lowdown on the big day...
Did you ever imagine when Robert and Aaron first kissed that they'd end up getting married?
Ryan: "We shouldn't have done it so well, should we?! I personally couldn't imagine it. I didn't know how long I was going to be here for so, at that time, I just took each day as it came. We had such interesting storylines but I never saw that the affair would go on for this long."
Can you sum up how Robert and Aaron feel in the run-up to the Robron wedding, given that it coincides with Grace passing away?
Danny: "There are mixed emotions, really. From Aaron's point of view, it's bad timing, and he wants to postpone it. Robert kind of has a pep talk with him and says that it's a time to get the family together."
[Check out the latest Emmerdale storylines].
Does Chas say something as well?
Ryan: "Yeah, Chastity Dingle is quite forthright about not postponing the wedding, and everyone getting to be happy and celebrating the matrimony of Robert and Aaron".
Do Robert and Aaron make any changes to the wedding, in light of what has happened?
Ryan: "No, but obviously with it being a family occasion, there are several people who get the opportunity to make speeches, and the context of what's going on comes through in those."
Victoria doesn't want to attend – can you explain why?
Ryan: "She isn't going to attend initially, because she knows that Moira was responsible for the death of Emma Barton, not Adam, and that Aaron knew. Adam and Victoria's relationship obviously suffered, and she's very angry with both Aaron and Robert for not letting her in on that, and having the pain of believing that Adam was guilty. But Robert tries to talk her round, and she ultimately sees that the wedding is a bigger occasion than her own particular upset, and decides to come in the end."
The service takes place in a pagoda, next to the village hall. What else can you tell us?
Ryan: "They write their own vows and they wear suits. Chas goes to a lot of effort to make it a really special occasion, and there's a scene where Robert and Aaron come back from getting their suits and she's there with with Faith, and they've been spending the whole day getting the decorations ready. They're a lot classier than last time! And baby Seb is obviously an honoured guest, and he has a particularly cute little outfit on."
Will their surnames be Dingle, Sudgen, Dingle-Sugden or Sugden-Dingle?
Danny: "The writers were very keen for them to keep their own identity, so it will just be Aaron Dingle and Robert Sugden."
Does anything go wrong at the Robron wedding?
Ryan: "It's one of the very few occasions in the show where people get to be happy without any interruptions. Obviously, there's the background of what's gone on with Grace, but it's a very positive episode. Obviously, everyone is affected by what has happened and people make their feelings felt, but it's a nice wedding."
Why do you think Robert and Aaron can make things work this time round?
Danny: "There's so much more to Robert. He's not the character he came in as. They just want to be loyal and honest to each other, finally, and they just happen to be best mates who are in a relationship. I think we've always tried to play it that way."
Ryan: "I think they've learnt from things they've done in the past, places where the relationship has gone wrong, so I think they're much stronger this time around and they have a really strong foundation to build upon."
What are your hopes, once they're married?
Ryan: "That the stories stay interesting, and that there's still drama for our characters to encounter, interesting situations for them to find themselves in, and obstacles for them to overcome."
If you had the opportunity to write Robron's next storyline, what would that be?
Ryan: "Personally, I'd really like to see the characters leave the village and go to some really exotic locations and have two handers in those exotic locations! We could keep it within the realms of the show but interesting for the viewers!
"Seriously, both of the characters have got a lot of dimensions to them and they'll always have interesting storylines, I'm sure. Just because they're married doesn't mean it's the end of the road. And they've also got so many family members and so many character groups that they interact with, so there's unlimited possibilities for future storylines."
Emmerdale continues on ITV and will next week feature the Robron wedding.
Get the latest updates, reviews and unmissable series to watch and more!
Thank you for signing up to Whattowatch. You will receive a verification email shortly.
There was a problem. Please refresh the page and try again.