Emmerdale fans full of praise for THIS latest shock plot twist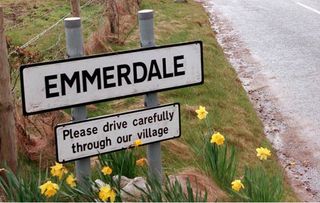 Last night saw another surprise twist in Emmerdale, but fans were loving the soap for tackling such a taboo subject.
Last night's Emmerdale saw Maya Stepney share a forbidden kiss with teenager Jacob Gallagher - leading to fans praising the soap on social media for tackling the tricky storyline.
Jacob has been harbouring secret feelings for David's girlfriend for weeks, but adding the fact he is only 15, plus the not-so-minor detail that Maya is also his teacher, makes the shocking twist in last night's hour-long episode all the more dark.
With Maya's birthday going from bad to worse after David's gifts left a lot to be desired, Jacob could be seen quietly seething at his dad's lack of imagination.
To make matters worse David then ended up comforting ex Tracy after her aunty suddenly died, only for Maya to catch the former couple getting cosy over a bottle of wine.
But little did David know, it was Jacob who told Maya where he was, knowingly landing him in some serious relationship trouble.
While David's gift of chocolates left Maya feeling flat, Jacob's DVD of her all-time favourite film, signed by the cast, nonetheless, left Maya thrilled.
As Maya thanked Jacob for his throughful gift, she told him: "You really get what I'm about, this has totally made my day." Before Jacob replied: "I really like you - I mean, I like you a lot," he replied, before kissing her.
While Maya did pull away, there was certainly a moment when it looked like she might not, and Emmerdale fans were in agreement that the moment between the forbidden pair was uncomfortable and hard to watch...
But while Jacob and Maya's kiss made for tricky viewing, fans agreed that it was a subject that needs addressing...
As David arrived home from collecting the dinner, Jacob made a hasty exit upstairs. But where will this storyline head next?
Will Maya use Jacob's infatuation with her against him, or will she do the right thing and shut the whole thing down?
Emmerdale airs weeknights at 7pm on ITV, with an extra episode at 8pm on Thursdays.
Picture credits: ITV
Get the latest updates, reviews and unmissable series to watch and more!
Thank you for signing up to Whattowatch. You will receive a verification email shortly.
There was a problem. Please refresh the page and try again.