Everything Disney announced at its Investor Day event
All the news you need to know from the Mouse's massive news event.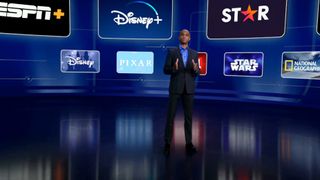 (Image credit: Walt Disney Co.)
The Walt Disney Co. today held a four-hour "Investor Day" conference in which it dropped the amount of news on us that you'd expect from a company of Disney's size and caliber. That includes updates on content, streaming services and more.
And we're talking a lot of news in a four-hour press event. That includes updates on streaming services like Disney+, Hulu and ESPN+. It includes more detail on the Star brand. (Think Hulu, but outside the United States.)
And then there's all the content. All the latest on new series, shows and film.
Here's everything you need to know from the Disney Investor Day event. Refresh for the latest.
Raya And The Last Dragon will be coming to Disney+ in March, at the same time as it hits in theaters.
Disney+ now has 86.8 million subscribers, up from 73.7 million in Q4 2020.
ESPN+ now has 11.5 million subscribers, up from 10.3 million in Q4 2020.
The Disney bundle that includes Hulu, Disney+ and ESPN+ will be available without advertising on Hulu's on-demand content for $18.99 a month. (That's $6 more than the with-ads price.)
"Star on Disney+" is the new home for Disney-owned content outside of the United States. (Inside the U.S. you'd likely find that content on Hulu.) It's launching initially in Canada, Australia, New Zealand and Europe, with a slightly higher price.
Latin America will get the same, only in a dedicated Star+ streaming service.
The reach of FX content has increased by 50 percent since FX on Hulu launched earlier in 2020.
ABC News is getting new exclusive content on Hulu.
ESPN+ is coming to Hulu. You'll be able to watch ESPN+ directly from within the Hulu app, if you're subscribed to both.
The SEC Network is coming to Hulu With Live TV in 2024.
Select SEC games will be available on ESPN+ starting in 2021.
A new sports highlights program is coming to ESPN+.
Peyton's Places is coming back for a third season on ESPN+.
Nine Perfect Strangers, staring Nicole Kidman, Melissa McCarthy and Regina Hall, is coming to Hulu.
Only Murders in the Building, starring Steve Martin, Martin Short and Selena Gomez, is coming to Hulu.
The Dropout with Kate McKinnon is coming to Hulu.
Dopesick, borne from the podcast by ABC News, starring Michael Keaton, Rosario Dawson and Peter Sarsgaard, is coming to Hulu.
A fifth season of The Handmaid's Tale has been ordered. No date was given.
Most FX shows are back up and running after the COVID-19 shutdown.
Four more seasons of Its Always Sunny In Philadelphia have been ordered.
The Old Man, American Horror Stories, Platform, Reservation Dogs, and Y The Last Man are all coming to FX On Hulu.
Alien is getting its own series on FX. It'll be set on Earth and run by the brains behind Legion.
James Clavell's Shogun is getting a series on FX.
Two new Star Wars series — Rangers of the New Republic, and Ashoka — will be coming Christmas 2021.
Tony Gilroy (The Bourne Identity) is bringing Andor to Disney+ in 2022.
Obi Won Kenobi picks up after the events of Revenge of the Sith, production will begin in March 2021.
The Bad Batch follows Clone Force 99 in a new Star Wars animated series.
Star Wars Visions will be a 10-part anthology from the leading Japanese anime studios.
Justin Simien is developing a Lando series.
The Acolyte takes us into the High Republic era of Star Wars.
A Droid Story will introduce a new hero, guided by R2-D2 and C-3PO.
Willow starts shooting in Wales and will premiere in 2022.
The final Indiana Jones film will debut in July 22.
Patti Jenkins is directing Rogue Squadron, releasing in theaters Christmas 2023.
There will be five tenpoles released directly to Disney+ in 2021.
Six new Disney Originals were announced.
Baymax (of the Big Hero 6 fame) will be getting his own series in 2022. It will be a follow-up to the original film.
Trent Corey and Josie Trinidad will be creating a short-film series called Zootopia+ in Spring 2022.
Princess Tiana will be brought back for all new stories in a long-form musical comedy series. It happens immediately after The Princess and the Frog. Coming to Disney+ in 2023.
Moana will also be getting her own long-form comedy series. She'll continue her adventures beyond the reef. Moana the Series will come to Disney+ in 2023.
Iwaju will explore class, innocence and challenging the status quo and will premiere in 2022.
Fall of 2021 will introduce a new Disney Animated feature: Encanto. Directed by Byron Howard, Jared Bush and Charise Castro Smith. Lin Manuel Miranda will score.
Dug Days will follow the bestest talking dog from Up and will premiere in 2021. Lightning and Mater will get their own series as they travel across the country in Cars in 2022. Pixar will also be introducing its first long-form series called Win or Lose. The series will premiere in fall 2023.
Pixar will release two films in 2022: Turning Red features May, a confident but awkward teen, who turns into a giant red panda when she gets too excited. Lightyear – the definitive origin story of the original Buzz Lightyear. He'll be voiced by Chris Evans!
Marvel couldn't release any movies this year so they announced everything during their panel.
Disney+ will increase by $1 in March of 2021 (totaling at $7.99 a month).
Phil spent his 20s in the newsroom of the Pensacola (Fla.) News Journal, his 30s on the road for AndroidCentral.com and Mobile Nations and is the Dad part of Modern Dad.
Thank you for signing up to Whattowatch. You will receive a verification email shortly.
There was a problem. Please refresh the page and try again.