Gifty Louise still shocked by her X Factor elimination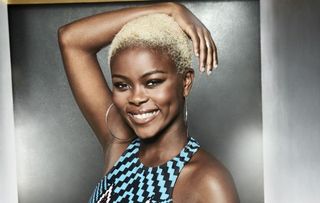 Gifty Louise says she feels like she never had a bad week on The X Factor and was stunned when the judges voted her off
The X Factor reject Gifty Louise has revealed her surprise at her shock elimination from the show.
The events manager from London was given her marching orders during Sunday night's results programme, after a tense sing-off with girl group Four Of Diamonds.
Speaking on Good Morning Britain, she said: "I was shocked.
"I felt like I'd been very consistent every single week – I don't feel like I've had a bad week."
Gifty followed that with a tweet on Monday morning, expressing how gutted she was about the result.
The 20-year-old found herself in the bottom two after Saturday's Fright Night show, where she sang I'm In Love With A Monster, which was originally by her mentor Simon Cowell's US group Fifth Harmony.
She gave a rousing rendition of A Song For You by Ray Charles in the sing-off, but it was not enough to beat Four Of Diamonds, who performed their take on Christina Aguilera's The Voice Within.
Gifty looked stunned as she was told she was out of the ITV competition, but Simon quickly told her: "It was my mistake. I should never have given you that song.
"You should never have been out of the competition at this point.
"It's not you, it's me."
Speaking on Monday, Gifty admitted she had not felt 'too great' about singing the song, as it was her third track by Fifth Harmony.
She said: "I had a chat with him (Simon) after my performance on the Saturday and I told him 'I'm going home and I know it'."
During the results show, Simon made a bit of a blunder when asked who he wanted to send home, accidentally saying Gifty's name.
He quickly changed it, telling host Dermot O'Leary: "No! I'm not sending Gifty home. I'm sending the girls home … Rewind!"
Groups mentor Louis Walsh saved his act Four Of Diamonds and former Pussycat Doll Nicole Scherzinger also chose to save the girls, leaving the final decision with Sharon Osbourne.
She decided to send Gifty packing, rather than sending the vote to deadlock, eliciting boos from the audience.
Gifty has now said she wished the vote had been tied, meaning it would have gone to deadlock and the public vote would have determined who was staying, rather than the judges.
She said: "I felt like they had made up their mind that, you know, 'I think Gifty has to go'."
However, the singer insisted she had enjoyed the whole experience and would not let her elimination hold her back, saying she planned to 'milk it'.
It was her second shot at X Factor success – she made it to the last round of boot camp in 2015, but lost her voice before the final performance.
Get the latest updates, reviews and unmissable series to watch and more!
Thank you for signing up to Whattowatch. You will receive a verification email shortly.
There was a problem. Please refresh the page and try again.