The Great British Bake Off semi-final: Last four speak to us!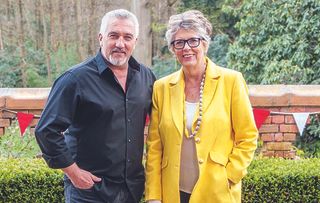 (Image credit: Mark Bourdillon / Channel 4 Tele)
The Top Four talk!
Four bakers are still in the running for the 2017 trophy – Stacey, Sophie, Steven and Kate. And we asked all the semi-finalists to tell us about their Bake Off journeys as the show continues tonight on C4 at 8.00pm...
STACEY HART
What were the best things about the Bake Off experience?
I was sure I was going to leave in week one, so every week after that was a huge bonus. My fave moments were always after a challenge. It was great to chat to the bakers and have a laugh, lying on the grass together in the sunshine!
Favourite baking theme?
Pudding Week. I got to make an Eighties-inspired Wham terrine - what's not to love?
Favourite bakes by other semi-finalists?
I loved Steven's bread bag; it tasted amazing!
Post Bake Off, what would you love to happen next for you?
I would love to do something in the baking arena or perhaps write for a good magazine sharing my thoughts and recipes.
SOPHIE FALDO
Favourite moment in the tent?
Probably receiving the first Hollywood Handshake.
Best baking week?
Bread week was a personal triumph. It was the thing I was least experienced in so getting through it unscathed was a weight off my shoulders. I've been doing a lot of bread since then to make sure it's no longer a weakness of mine.
Top bakes by your fellow semi-finalists?
I really liked Kate's fresh fruit cake in week one. Rose is one of my favourite flavours, and combined with strawberry, it was lovely. Stacey's Marshmallow Sandwich Cookies were a triumph. She even converted Paul to glitter decoration! Steven's Sfogliatelle on Italian week were also really impressive.
Future plans?
Baking is a real passion of mine and if I could turn it into a career it would be fantastic.
KATE LYON
Top tent triumph? Hearing Prue say my toffee apple cake was 'The best cake she had ever tasted'. What a compliment! I need to print that out and frame it for my wall ha! ha!
Most enjoyable week?
I really enjoyed caramel week and patisserie week because I hadn't done much of these things before. In fact, I had never made caramel before.I love a challenge! I can't tell you how many pans I ruined though during practice…
Best thing you enjoyed by another semi-finalist?
There were so many lovely things – I can't pick just one!
What would you love the future to hold?
I've realised I've got a big passion for food in general so I would love to get more involved with that.
STEVEN CARTER-BAILEY
What are your best moments?
Getting star baker and a handshake will always be my best moments, but my fondest memories are sitting in the sun outside the tent just relaxing and chatting with the other bakers.
Favourite week?
Week one is my all time favourite. It was all 12 of us together. The atmosphere in the tent was electric and we were all just so excited. The nerves where there, but they didn't stand up to the feeling of pride and happiness I felt.
Favourite bakes by other semi-finalists?
Sophie's trifle terrine was not only stunning to look at, but had the most incredible flavours. Kate's toffee apple cake was totally addictive. Stacey's glittery biscuits were not only delicious, but they sparkled as well - what's not to love!
Your dream post-Bake Off?
I had no idea I'd make it this far, so I haven't planned for anything yet. All I know is that I have found something that makes me happy and makes me want to get up every morning.
Get the latest updates, reviews and unmissable series to watch and more!
Thank you for signing up to Whattowatch. You will receive a verification email shortly.
There was a problem. Please refresh the page and try again.