Hollyoaks spoilers: Stars Jacob Roberts and Adam Woodward on BIG court showdown with Buster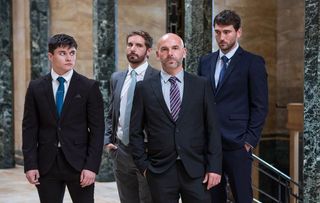 Hollyoaks stars Jacob Roberts (Damon) and Adam Woodward (Brody) reveal what's in store when predator Buster appears in court...
A courtroom showdown is coming in Hollyoaks, when Ollie Morgan, Brody Hudson and Damon Kinsella all confront paedophile predator, Buster Smith.
Disgraced businessman Buster has previously never been caught for his crimes, which began with the sexual abuse of his son Damon's best friend Brody, when he was a teenager. And most recently, teenager Ollie has become Buster's latest victim joined Buster's football academy.
But the fellas are in for a shock in next week's episodes, when cunning Buster pleads not guilty and a surprise witness come forward in support of Buster. But who?
Jacob Roberts (Damon) and Adam Woodward (Brody) reveal more...
How does Damon feel about Buster after all the shock allegations about his dad? Jacob - "He's finished with him now, and he doesn't even want to call him dad anymore. Buster refuses to admit what he's done, but Damon can see right through him."
How important do you feel it is for Brody to go to Buster's trial hearing? Adam - "Brody's hesitant to see Buster again after everything that's happened. Maybe it's because coming face to face with his abuser may be triggering for him."
Why does Damon visit Buster in prison? How does that go? Jacob - "Damon discovers that Buster plans to plead not guilty, so he wants to change his dad's mind, for everyone's sake. This is his last big act of support. He just hopes that there is still a father and son connection, strong enough to get through to him."
How difficult has the abuse revelation been for Damon and Brody's friendship? Jacob - "It's been hard for Damon not to think about what's happened to Brody, as he was so close to both him and Buster. It's very difficult for Damon right now, especially at the beginning."
Adam - "Brody and Damon's relationship is solid, but this is the first major crack it's suffered, so obviously there will be tensions between them."
What's in store for Damon and Brody in the future? Jacob - "Damon will have a new love interest in the upcoming weeks, all I can reveal is that she's a brunette. There will be a serious storyline involving the pair, and I'm excited for the future of their relationship." Adam - "Brody finds it difficult to open up to anyone, but Sienna having been through trauma herself, makes her an easier person to talk to. So, more passion between the two is yet to come…"
How is it working with each other? Jacob - "It's really good, we're best mates really. We have a mess about in the lighter scenes, but when it comes to the serious stuff, we have our discipline heads on. He's a great guy to work with." Adam - "I love working with Jacob, we're just as close on-screen as we are off-screen."
Which character would you love to have more scenes with? Jacob - "Ross Adams, who plays Scott. I think he'd be a good mother figure for Damon, now that his mum has passed away, and Ross is amazing." Adam - "I'd probably say James Nightingale, because Greg is such an amazing actor."
Will Buster plead not guilty? Keep watching Hollyoaks weekdays at 6:30pm on Channel 4 with the next episode at 7:00pm on E4 to find out!
Get the latest updates, reviews and unmissable series to watch and more!
Thank you for signing up to Whattowatch. You will receive a verification email shortly.
There was a problem. Please refresh the page and try again.