Bake Off's Jo Brand talks rude bakes, teasing Paul Hollywood and her bet for 2016 champ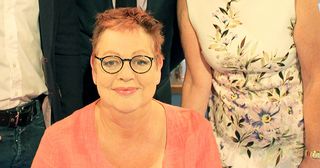 (Image credit: BBC/Love Productions)
Perhaps unsurprisingly, given her laid-back and somewhat sardonic view on life, Jo Brand is typically deadpan when asked about the future of The Great British Bake Off
Rarely out of the headlines since the shock announcement that Britain's best-loved show, The Great British Bake Off, will leave its BBC home and move to C4 next year, fans have been left reeling by bombshell after bombshell as first its presenters, Mel Giedroyc and Sue Perkins, and then hallowed judge, Mary Berry, decided to quit the show.
Is this the end of soggy bottoms? Warm baps? Nice cracks? What will die-hard fans do without Bake Off bingo to play every week?
"They'll have to go to the shop and buy a sausage roll," says Jo Brand, host of BBC2 spin-off show, Bake Off: An Extra Slice, in typical deadpan fashion.
So will An Extra Slice be moving to C4 too? "I have no idea," sighs Jo. "I can honestly say that no one's said anything to me.
"But I absolutely love doing An Extra Slice. It's a great series and I have such a laugh doing it, as I hope that shows. How many other programmes involve the studio audience bringing you food to eat? I go home a very happy woman indeed after filming."
Here, Jo, talks rude bakes, ribbing Paul Hollywood and the contestants in the running to clinch 2016's best amateur baker crown...
It would be shame if this turns out to be the last series of Extra Slice – difficult to see anyone taking the rise out of Paul and Mary quite so well. Do you think they mind the constant ribbing?
"Well, they've never said anything. I think they're cool with it; we're never abusive. We look for their comedy character, so Mary, for example, gives 'Mary looks' – so we're always on the lookout for the latest Mary look, which go particularly well with dramatic music.
"Paul's so rude sometimes – he doesn't mean to be, it's just his manner and he doesn't take any prisoners, so I like any outtakes that make him sound rude. He can laugh at himself."
Are you surprised the show's move to C4, and the fallout from it, has become a national obsession?
"Not at all, before Bake Off we were all obsessed with home improvement shows – Carol Smillie anyone? We all like to think we do exciting things like surfing and mountain climbing in our free time, but the reality is we watch telly, and baking has caught everyone's imagination. Cakes have come on so much, haven't they? It used to just be 'Greggs' – now there are dainty patisseries everywhere."
We're going to miss Mel and Sue. A lot of fans think their daft humour is pretty irreplaceable...
"I totally agree. They also relax the bakers with their joking around – otherwise the atmosphere would be so tense. I know the bakers take the contest seriously but you need Mel and Sue to lighten things. They're fabulous."
If we'd told you five years ago you'd be hosting a prime-time show about cakes would you have believed us?
"The weird thing is, when I started out doing stand-up, cake was part of my routine. Do you remember the 'Naughty…but Nice' cake campaign on telly? They often used skinny people to advocate eating cake whereas the reality is, if you eat too many cakes you'll look like me. I liked winding the audience up with that so cake's always been on my radar. Ironically, I'd rather have something savoury."
You'll like the signature challenge in this week's Tudor theme then – a savoury stuffed pie!
"Sounds brilliant. I'd be happy with cheese straws to be honest."
We remember the Black Forest Archbishop Desmond Tutu cake you made while taking part in 2013's Comic Relief Bake Off. Was that the moment producers knew they'd found the perfect Extra Slice host?
"I do hope so! That'd be nice. It had to be of your hero and Desmond's mine. I thought it was a bit creepy someone did Paul Hollywood. I'm delighted they asked me to host An Extra Slice – I didn't take any convincing. I knew the crew and knew what the tone would be. If they'd wanted it reverential I'd have been concerned but it's the perfect fit for me."
Talking of rude, there's been a fair few rude-looking bakes on the show this series…
"Like Tom's 'very male-looking' bread? Yes, viewers have sent in a lot of genital-shaped offerings. I find it rather sweet they can't see what they've fashioned until we point it out on-air."
What's the favourite bake you've tasted on the show?
"A lady bought in some savoury eclairs filled with blue cheese and marmite that were absolutely gorgeous. I wish I'd got the recipe."
Are you a good baker then, Jo?
"No. In a word! Some people can do it, some can't. My offerings just don't taste nice and I can't decorate to save my life – it looks like a five-year-old has done it. My daughters like baking but that's nothing to do with me."
Favourite celebrity cake on the show?
"The Lionel Richie cake this series was genius."
Who's your all-time favourite baker?
"I loved Norman, the Scottish guy from the fifth series, for his extreme confidence in his own path and intentions – even when they went wrong. Which was a lot of the time."
If you were a betting woman, which baker would you put your money on to win this series?
"Jane. I like to support the older woman – because, well, I am one basically! I think Benjamina's also in with a chance, and Candice packs a punch. It's hard isn't it? They all have good and bad days. It's quite an open field this year, which is great fun to watch."
Words by Rebecca Fletcher
Get the latest updates, reviews and unmissable series to watch and more!
Thank you for signing up to Whattowatch. You will receive a verification email shortly.
There was a problem. Please refresh the page and try again.