Joe Wicks, The Body Coach, on his TV return: I'm less inclined to do topless shots with broccoli now!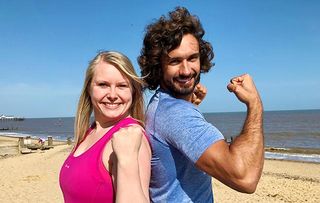 (Image credit: Channel 4 Television)
Joe Wicks reveals his feet are firmly on the ground for his new C4 series, The Body Coach
Joe Wicks is a personal trainer, Internet fitness guru, best-selling author and a popular pin-up. But this self-made Sussex sensation still has his feet firmly on the ground.
"There was a wicked rumour that I was doing Strictly Come Dancing last year! I'm A Celebrity Get Me Out Of Here have asked a couple of times but I'm at the start of my career and not up for it," says Joe, 31, who adds. "I don't have any ambition to be a celebrity. I have a girlfriend and we could be posting selfies every day. But I don't have an urge to tell the world about our private life. Love should be private, I think."
Talking to What's on TV about his new two-part C4 series, Joe Wicks: The Body Coach, Joe reveals the key to staying on a healthy path, while having a hearty laugh at some of his early career bare-chested media outings...
Tell us about the new series of The Body Coach…
"A couple of years ago I did one-hour pilot and it went well so this time C4 are giving me two episodes. I think it will be better, last time I was learning on the job. This time I hope I've a bit more confidence. Also I have more interaction with the people taking part and their transformations, which I love."
Who have you been helping?
"We've a really good mix taking part. Mum of three Natalie is really amazing. Teacher Asa is getting married and is really funny too - he loves his gin and tonic and confiscates food and eats it at lunch break! In the second episode we have husband and wife pub owners Jim and Helen – they are surrounded by booze and love a drink!"
How dramatic are the transformations?
"The changes are mind-blowing. Some people you think they'll never stick to the plan, but they're the ones who persevere and get amazing transformations. If someone has a little slip up it's not the end of the world. I don't make them feel bad about it. People go from thinking that preparing food and doing workouts is stressful to changing habits and making real progress. They learn that if they're consistent they can make progress and get leaner!"
What advice do you have for someone who thinks they don't have time or are too old?
"It's never too late to get active and healthy. With healthy eating and High Intensity Interval Training (HIIT) people in their fifties and sixties look ten years younger. HIIT has also been shown to help with dementia and Alzheimer's. Don't be frightened to do it; it will give you a better quality of life. If you've kids you can fit home workouts into your life by getting them involved with training and cooking."
You're often objectified – do you mind?
"In the beginning many magazines asked me to take my top off, so I just went with it – I wanted to grow a new audience. Now I'm an author and want to be taken more seriously so I'm less inclined to do the topless shots with broccoli! I laugh and moan about it now, but it was fun and I never didn't anything I didn't truly want to do."
What's next for you?
"I'm on a mission to keep going. I'm really passionate about working in schools with kids now. People's budgets are squeezed and the digital generation are less active. It's so important to make time for exercise and someone's got to get in there and inspire them."
Joe Wicks: The Body Coach starts on C4 on Tuesday 13 Feb at 8.00pm.
Get the latest updates, reviews and unmissable series to watch and more!
Thank you for signing up to Whattowatch. You will receive a verification email shortly.
There was a problem. Please refresh the page and try again.