Jordan from The Challenge gets shockingly eliminated — or does he? Fans react to the 'craziest twist ever'
Jordan from The Challenge had a whiplash of a week, dealing with a brutal elimination and relationship drama with Tori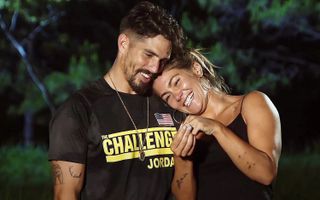 (Image credit: MTV)
Exes Tori and Jordan from The Challenge season 38 haven't had the easiest season so far, what with their relationship issues regularly getting in the way of gameplay, but Wednesday night's episode was especially a doozy for the former fiancés, as Tori had to wrestle with the decision of throwing Jordan into elimination.
"Playing with Jordan and playing with Aneesa has been really interesting to navigate because they're Ride or Dies, she's my best friend, he's my ex-fiancé," Tori says of her fellow The Challenge season 38 cast member and Jordan's teammate Aneesa Ferreira. "The communication between him and I isn't great so sometimes I do have to go to Aneesa and get that confirmation from her."
"Enough of their sh*t. If I'm sick of it, I know everybody else is," Aneesa confesses regarding her friends' constant romantic drama.
Things get even more dramatic when Tori's team wins this week's competition, a terrifying heights game that saw competitors having to walk backward in pairs across a narrow beam. "Jordan's proven himself. He's won three times and he's taken a shot at me so I have every reason to throw him in," Tori's teammate Faysal says of who to vote into the all-guys elimination.
Bananas asks Tori if there's any way she would put her ex up as the direct vote. "I just wonder what he would do in my position. I almost feel like, 'f**k you to Jordan' and I kinda wanna say his name," she reveals, adding in a confessional: "I'm tired of feeling like I'm putting my neck out for somebody that won't communicate with me. There's a part of me that thinks I might just do it."
The losing team's male players — Devin, Jordan and Horacio — all face the winners in the interrogation room, which gets heated between Jordan and Tori.
"Do not dangle our personal relationship for a decision made in this game. I voted Fessy in because no one is going to try and use my love as a hostage," Jordan says.
"For you to come and hold that over my head in a game of make-believe, I'm hurt that you would even say that. Lie to me next time, just lie," Jordan tells Tori.
However, when it comes time to put in her vote of which player would be going into The Zone this week, Tori can't let their past go, saying: "This decision was super hard. Obviously, I'm not going to say Devin's name, he's my best friend. Jordan and I have a lot of history, some of it being good, some of it being bad...unfortunately, I'm gonna have to say Horacio's name tonight."
"I think deep down for both of us, there's always this question mark of like, 'What if, what if it could?' And I think that will always underline every single decision we make in regards to one another," Jordan says of Tori's vote.
Jordan still ends up in The Zone against Horacio, after Devin pulled the safe dagger, and ultimately is eliminated when Horacio wins the comp. "Tori, I'm sorry," he tells his tearful ex before departing.
But it's not the last we'll see of Jordan in The Challenge: Ride or Dies. As host T.J. Lavin has hinted for weeks, the players need to rely on their Ride or Die partners no matter what, so not only does he split the current teams back up into their original pairs, but for the players whose teammates have been eliminated—i.e. Kaycee, Aneesa and Faysal—their departed partners are being brought back for a chance to return to the game.
"The craziest twist ever!" Nany says as Kenny, Jordan and Faysal return to The Zone. "All three pairs have a chance to get back in the game right here, right now," TJ tells everyone. "But not all of you are gonna get back in. Tonight someone's going home, for real."
Faysal and Moriah win the first round, meaning that they're back in the competition, and the credits roll before fans can see the smackdown between Kaycee and Kenny and Jordan and Aneesa. Is Jordan going home for good? Stay tuned!
Fans react to the return of Jordan from The Challenge:
Get the latest updates, reviews and unmissable series to watch and more!
Christina Izzo is the Deputy Editor of My Imperfect Life. More generally, she is a writer-editor covering food and drink, travel, lifestyle and culture in New York City. She was previously the Features Editor at Rachael Ray In Season and Reveal, as well as the Food & Drink Editor and chief restaurant critic at Time Out New York.
When she's not doing all that, she can probably be found eating cheese somewhere.
Thank you for signing up to Whattowatch. You will receive a verification email shortly.
There was a problem. Please refresh the page and try again.