Dallas star Linda Gray makes Hollyoaks debut tomorrow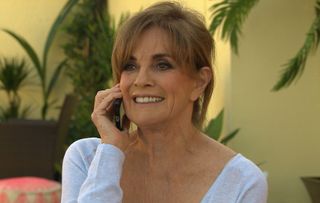 American actress Linda Gray, best known for her award-winning portrayal of Sue Ellen in 1978 drama Dallas, makes her Hollyoaks debut tomorrow as Marnie Nightingale's mother.
Dallas and Models Inc. star Linda Gray is set to make her Hollyoaks debut tomorrow.
The American actress is best known for her award-winning portrayal of character Sue Ellen in the 1978 TV series Dallas.
Gray is also a former United Nations Goodwill Ambassador and starred as Mrs. Robinson in the Broadway and West End productions of The Graduate in 2001. Her legs were famously used in the original movie poster for The Graduate, starring Anne Bancroft and Dustin Hoffman.
Seventy-six-year-old Linda makes her eagerly awaited appearance as Tabby Maxwell-Brown in Hollyoaks tomorrow, when she gets a phone call at her LA home from daughter, Marnie Nightingale (Lysette Anthony).
Marnie has found herself in financial trouble after investing in a property development scam and the only person who can bail her out is mother, Tabby. However, when Marnie's son, James invites Tabby over to the UK, Marnie pales knowing Tabby will not approve of her getting back with ex-husband, Mac Nightingale.
In scenes during Hollyoaks' E4 episode at 7pm on Monday 14th November, Marnie bites the bullet and calls Tabby to break the news that her and Mac are back together.
Linda has filmed several episodes for the soap which will see her clash with Mac as well as come up against a seduction attempt courtesy of hapless Tony Hutchinson. But whether or not her relationship with Marnie will be damaged during the scenes remain to be seen.
Talking about her Hollyoaks role, Linda said, "I'm thrilled to be going from one iconic series to another. Hollyoaks viewers are going to love it when Tabby whips up a storm just like Sue Ellen did."
Hollyoaks executive producer, Bryan Kirkwood said: "When we came to discuss who could possibly play Marnie's mother the list was very small. Lysette Anthony has fast become a fabulous soap bitch so having Linda Gray play her mother, Tabitha is the perfect fit."
Linda Gray's first Hollyoaks appearance airs during theE4 episode at 7pm on Monday 14th November.
Get the latest updates, reviews and unmissable series to watch and more!
Thank you for signing up to Whattowatch. You will receive a verification email shortly.
There was a problem. Please refresh the page and try again.