MasterChef's John Torode: 'I've had to eat a lot of muck to get to the good stuff in final week!'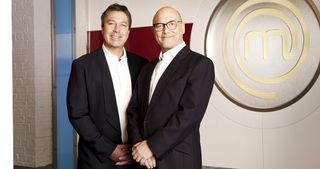 (Image credit: BBC/Shine TV)
After seven gruelling weeks one amateur cook's dream of lifting the coveted MasterChef (opens in new tab) trophy is about to come true. Yep, it's final week of the hit BBC1 cookery competition with the day (or should that be dish) of reckoning here for the remaining five contestants.
TV Times (opens in new tab) chats to John Torode, who isn't telling but promises us a fitting finale….
Having survived the toughest culinary challenges of their lives - cook-offs, professional lunch services, even the wrath of formidable perfectionist Monica Galetti – surely this week can't get much harder?
"Oh, you have no idea. It's MasterChef – it's life-changing TV. It's never going to be an easy ride."
What's this series been like for you this year?
"It's been an exciting one. What's great is that the British public has grabbed hold of it again. Everyone's watching it, everyone's talking about it. To be doing a show that's still getting six million viewers after 11 series is pretty special. And that's credit to so many people."
So what makes the show a success?
"Gregg Wallace and I are who people see but there's the guy who knocks on our dressing room doors to say we're ready to film, and the soundman who likes to rip hairs off my chest when taking my microphone off. And, of course, the people who have the guts to fill in that form and come on MasterChef. They keep the show a success."
Why have you found this series to be the most inspirational yet?
"Because the food they're cooking is from all over the world. We're seeing Japanese dumplings, popping candy, fortune cookies – it reflects how people are changing the way they cook, the way they eat.
"Like young Pete cooking amazing Japanese street food – he's never even been to Japan! But he's learnt his craft from YouTube, Twitter, going to food markets.
"It's great to see international food is now the norm – great for us to taste it too. Although I have to say, I've had to eat a lot of muck to get to the good stuff we're at now in final week!"
So what can you tell us about the 2015 MasterChef winner?
"It's a really pleasant surprise. They step up and push themselves that little bit extra, that little bit more. It's like Ping, last year's winner - who'd have thought a bowl of soup with liver would clinch it? That's what's great about MasterChef – expect the unexpected."
What are your personal highlights from this series?
"I thought the new Reinvention Tests in the heats were great because they showed resilience. Like Fran, whose chicken dish wasn't picked as a favourite so she had to cook for us again. She came back fighting with a chicken, tarragon and fennel pie that was truly delicious. That's someone I want in the competition. Someone who in the face of adversity can show what they're made of.
"Cooking at London's Typing Room restaurant and at Theo Randall at the Intercontinental was a real game-changer for those who got to knockout week. Their mindset changed: they were under real pressure in a real restaurant with a first-class reputation. The kitchen in the Typing Room was tiny so they had to be so precise and use processes like dehydrating sauces that they'd never done before. Brilliant to watch."
What was it like working with Monica?
"I'd never worked with Monica before, but let me tell everyone out there, she's as scary as she sounds! If you do a good job, you get praise – do it wrong and beware the wrath of Monica!
"She was great as a guest judge and the look on the contestants faces when they saw her was priceless. She's got a reputation that lady and it's well deserved. Boy, can she cook. A real treat to have on."
Get the latest updates, reviews and unmissable series to watch and more!
Thank you for signing up to Whattowatch. You will receive a verification email shortly.
There was a problem. Please refresh the page and try again.