Nadiya Hussain reveals to This Morning: I'm getting married again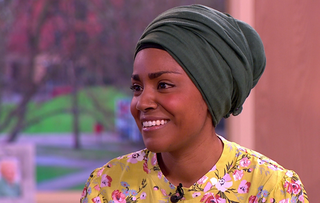 Bake Off winner Nadiya Hussain caused a minor panic when she revealed to This Morning she's getting married for a second time. She quickly clarified it's to the same man!
The Great British Bake Off winner Nadiya Hussain told This Morning that she's planning to get married again – to the same man.
Nadiya told Phillip Schofield and Holly Willoughby about her plans for her 'second marriage' to Abdal Hussain.
She said: "Yes. Not to a different person... the same person!"
But she quickly added: "We are on our 12th year... so you never know, I might trade him in!"
Nadiya and Abdal's marriage was arranged. "We spoke to each other for six months, but we never actually met until the day we got engaged," she said. "And the second day I saw him was the day I got married! I went on looks. Yeah, it was scary.
"I was 20 years' old and I thought to myself 'What am I doing?' But he was lovely and it worked. I'm lucky, it doesn't always work, but I was really lucky that it did... and he's lovely, I'd never trade him in."
Confessing her desire to have a 'proper British wedding', Nadiya explained: "I'll just have a good old time. I want to wear a nice dress and I want a cake that I didn't bake! I want somebody else to go to all that effort for me, and I want to wear a lovely dress that I've chosen... I didn't choose any of the outfits I had before. When you're 20 and you're getting married and it's arranged, you kind of get told where to sit, what to do... and now I'm going to say where I sit!"
Nadiya was promoting her debut novel, The Secret Lives of the Amir Sisters, which is in bookstores today.
This Morning screens each weekday on ITV
Get the latest updates, reviews and unmissable series to watch and more!
Thank you for signing up to Whattowatch. You will receive a verification email shortly.
There was a problem. Please refresh the page and try again.