Corrie's nappy valley stars: 'Steve's so fertile he only has to throw his undies on the bed!'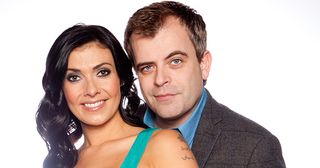 Coronation Street's Steve McDonald is in for some sleepless nights – for more reasons than one, explain Simon Gregson, Kym Marsh and Jane Danson
Having recently discovered that he has got Leanne Battersby pregnant following their one-night stand, coming up in Coronation Street Steve McDonald discovers that wife Michelle is expecting, too.
Stars Simon Gregson, Kym Marsh and Jane Danson share their thoughts on the bumpy road ahead…
Simon, what was Steve thinking when he jumped into bed with Leanne? "I don't think he was! Me and Jane were like: 'Where has this come from?' So the writers wrote scenes for us to explain what happened. They will never be aired, but now it makes sense to us.
"Basically, Steve went round to Leanne's and thought him and Michelle were over. Leanne wasn't in a good place, they started chatting, and one thing led to another over a bottle of vino…"
Does he really think he can keep the fact that he's her baby's father a secret? "That's his plan! Leanne doesn't want him to have anything to do with the baby, and he has agreed to that because he thinks that if Michelle finds out, she will leave him."
How does he feel when Michelle gets pregnant, too? Simon: "I think Steve kind of shocks himself sometimes. He is like 'Am I going to wake up in the shower like Bobby Ewing?' He's is in a bit of a state, bless him." Kym: "Being as fertile as he is, I'm surprised that Michelle hasn't got pregnant before now. Normally, he only has to throw his undies on the bed and that's it!"
How does Leanne feel about Michelle's pregnancy? Jane: "She thinks it is the worst thing in the world! Obviously, there are the inevitable trips to ante-natal classes together and talking about baby clothes and the rest of it.
"Suddenly, Leanne has become Michelle's new best friend, and it is just so awful and awkward. We have had all these scenes where Michelle is blissfully unaware and Leanne is looking a bit sheepish."
Are Steve's terrified expressions making you laugh? Kym: "I am used to him now, but Jane did said to me, 'I don't know how you do it – I can't stop laughing!'" Jane: "I do struggle slightly! Simon is very funny, so I just say to him, 'There is no point in me looking at you, 'cos I can't do it'. In some scenes, he has played it for laughs because it is tragically funny; it is like 'Another fine mess you got me into!' Whereas for Leanne, it is über-serious."
How do you feel about wearing a baby bump? Kym: "Well I've never had to wear one before so it'll be quite weird. I spend all my time trying to not have any bumps now!" Jane: "Leanne has never experienced pregnancy before – I have, but she hasn't. At least it will be in the winter months when it will be cold."
Do you think the storyline will make you feel broody? Kym: "Well, I can't have any more children. I lost a little boy seven years ago [son Archie] and I had complications when I had my daughter Polly. I couldn't take that gamble again so I had a procedure done to prevent me from getting pregnant." Jane: "It will be nice because when they're not your own babies, you can give them back. I can get all the best bits on set."
How do you feel about filming the birth scenes? Kym: "Well, I have given birth before so I know that it's about a lot of excruciating pain! But I don't know what is going to be asked of me." Jane: "I can certainly draw on my own experiences. It will probably end up being dramatic, or maybe Steve will be there. He might be running between the two women with a sweat on!"
Can you envisage Steve being the busiest dad on the street? Simon: "I think that's probably in the writers' minds at some point, yeah. Steve in trouble seems to be what they like. Even though it's quite a dramatic thing, there's a lot of scope for comedy."
Leanne is keen to get back with Nick. What is she going to tell him about her pregnancy? Jane: "In her eyes, she has totally ruined it, because she thinks he is not going to want to raise somebody else's baby – especially Steve's. So she lies and says the father was some guy she had a one-night stand with."
Peter Barlow is coming back to Weatherfield. Will this also affect a Nick and Leanne reunion? Jane: "I know absolutely nothing, but suffice to say there is history between the three of them. I think Leanne still likes him a bit. It's safe with Nick, but there's an element of danger with Peter."
How will Michelle react when she finds out the truth about Steve and Leanne? Kym: "We have no idea of the details yet, but she's not the most forgiving person in the world, is she?! When it comes to a head, she's probably not going to be very pleased about the fact that that everybody knew and she was kept in the dark."
Do you think she and Steve can weather the storm or will this be one discrepancy too many? Simon: "We'll be a bit sad if it goes that way but yeah, I think it might be a step too far." Kym: "Hopefully, if it does mark the end for now, then at some point in the future they will find their way back to each other."
Do you think Steve is going to wish he'd had that vasectomy? Simon: "Yeah!" Kym: "I think Michelle's gonna make him have one. In fact, Michelle may actually perform one on him!"
Interview by Alison Slade
Get the What to Watch Newsletter
The latest updates, reviews and unmissable series to watch and more!