'With the heaviest of hearts' Sir Roger Moore's family share news of his death, aged 89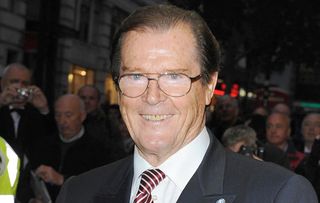 (Image credit: PA Wire/PA Images)
James Bond star Sir Roger Moore has passed away after a short battle with cancer
Classic James Bond star Sir Roger Moore has died aged 89 after a 'short but brave battle with cancer', his family have announced.
Sir Roger starred in seven 007 movies from 1973 to 1985, but was also a star of the small screen, memorably leading the casts of The Saint and The Persuaders in the 1960s and 70s.
A message shared on the actor's official Twitter account read: "With the heaviest of hearts, we must share the awful news that our father, Sir Roger Moore, passed away today. We are all devastated."
The statement continued: "It is with a heavy heart that we must announce our loving father, Sir Roger Moore, has passed away today in Switzerland after a short but brave battle with cancer.
"The love with which he was surrounded in his final days was so great it cannot be quantified in words alone."
They continued: "We know our own love and admiration will be magnified many times over, across the world, by people who knew him for his films, his television shows and his passionate work for Unicef, which he considered to be his greatest achievement.
"The affection our father felt whenever he walked on to a stage or in front of a camera buoyed him hugely and kept him busy working into his 90th year, through to his last appearance in November 2016 on stage at London's Royal Festival Hall.
"The capacity crowd cheered him on and off stage, shaking the very foundations of the building just a short distance from where he was born.
"Thank you Pops for being you, and for being so very special to so many people.
"Our thoughts must now turn to supporting Kristina at this difficult time, and in accordance with our father's wishes there will be a private funeral in Monaco."
The statement was signed by Sir Roger's children, Deborah, Geoffrey and Christian.
Sir Roger was the longest-serving actor to play the womanising MI6 agent.
Last year during a question-and-answer session at London's Southbank Centre, he admitted that, despite winning the coveted role of the martini-swirling spy, one part he wished he had landed was Lawrence of Arabia.
He said: "I remember Bob Baker and I going to see Lawrence of Arabia and coming out both being very depressed and saying 'We might as well give up the business', because they had made the best movie that had ever been made."
The debonaire star, who added a distinct light-hearted touch to the 007 role, also admitted that, while he thought Sir Sean Connery had been the greatest Bond, fans were 'lucky' to have the current star of the franchise, Daniel Craig.
He said: "I think that Sean was obviously the great Bond.
"He was obviously the right person, he brought the right personality to the performance, otherwise Bond would not have gone on past the first six that he did. He was a tremendous Bond.
"Today, I think we're very lucky to have Daniel Craig because he is quite extraordinary. I always say that Sean looked like a killer, but Daniel Craig would finish it off.
"When I saw Casino Royale, I thought that Daniel Craig did more action in the first seven minutes than I did in seven movies."
While arguably best known for his role as 007, Sir Roger will also be remembered for his work in TV's The Saint in the 1960s.
https://youtu.be/QIEblgU_z50
He once joked of his role as Simon Templar in the spy thriller series, which he also produced: "When I was doing The Saint on television I had two expressions; as Bond I've managed to work up to four."
Sir Roger received a star on the Hollywood Walk of Fame in 2007, with children (from left) Christian, Deborah and Geoffrey and his wife Kristina
Get the latest updates, reviews and unmissable series to watch and more!
Thank you for signing up to Whattowatch. You will receive a verification email shortly.
There was a problem. Please refresh the page and try again.