'Star Trek: Discovery' will be coming to you for a forth season
Discover. All. The things!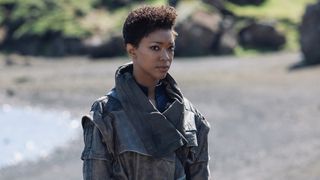 (Image credit: CBS All Access)
With showrunner woes a think of its past and a warm reception to Season 3, Star Trek: Discovery has already been officially been picked up for the forth season by CBS All Access.
CBS has been all-in on the Star Trek front. A Discovery spinoff is in the works, currently titled Star Trek: Strange New Worlds (the series was ordered in May, so expect news soonish after some reasonable COVID delays), Star Trek: Picard will see its second season sometime in the future, Star Trek: Short Treks, the upcoming animated kids' series featuring Captain Janeway (Kate Mulgrew), as well as the adult animated series Star Trek: Lower Decks. So far, this gamble has worked quite nicely for them. Outside of some behind-the-scenes drama with Discovery in past seasons, they've seen nothing but success from the series' that have aired, and have a lot of hyped around the ones that are to come.
Star Trek: Discovery recently premiered the first episode of its third season on October 15th. This season acts as a kind of soft reboot, so if you're looking for the right moment to hop in, now's the time!
Despite the pandemic, Season 4 will begin production on November 2nd 2020.
Survives on a steady IV of caffeine, rants, pixie dust and fangirling. Will probably sass you.
Get the latest updates, reviews and unmissable series to watch and more!
Thank you for signing up to Whattowatch. You will receive a verification email shortly.
There was a problem. Please refresh the page and try again.