Strictly Come Dancing viewers over the moon as they notice THIS star return for special role during opening scene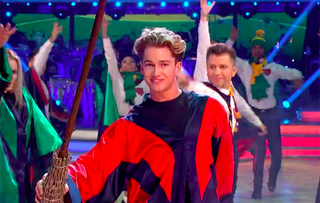 He might have been the first star to leave the show, but Strictly Come Dancing professional Anton Du Beke was back last night.
The dancing legend was knocked out of the competition alongside Susannah Constatine last week and there have been rumours he might be quitting the show for good.
Luckily, the 52-year-old put the speculation to bed as he returned for a spellbinding Harry Potter themed opening dance with the rest of his Strictly co-stars.
Despite not featuring in the pre-recorded scene, Anton was given an extra special role as the Hogwarts headmaster as he took to the ballroom floor once more.
As his mischievous pupils danced around the stage, the BBC veteran tried to control the class while dressed in a cloak and hat.
And it's fair to say fans of the show were absolutely delighted at his return, as many took to Twitter to praise the incredible performance.
"Awww bless Anton! He's missed already! Thank god for the opening dance numbers! #Strictly #SCD," said one.
Another added: "This Harry Potter routine is cute tbh! Giovanni is in Slytherin, Aljaz & Pasha are Hufflepuffs and Anton is the headmaster. Sounds about right! #strictly."
And a third agreed: "The pros Harry Potter routine was absolutely magical. My two fave things!! Dance & Harry Potter @bbcstrictly #StrictlyComeDancing2018."
Meanwhile, this comes after Anton revealed that he will NEVER the leave the show and will be returning for the 17th series next year as usual.
Speaking with The Sun, he said: "I want to do it forever. Forever. The only way you'll get me off that show is if you wheel me out in a box.
"You won't hear me knocking on the lid from inside. It's not enough to slam a box on me, I would have to be dead!"
He then added that he enjoys working with less experienced celeb dancers because it means he can be more creative.
"I'm the last person who should be grumpy about going first or going early," he added. "I've danced with a number of ladies low on the leaderboard and got through many weeks. So I can't really say, 'It's unfair'. It's the way it is."
Thank you for signing up to Whattowatch. You will receive a verification email shortly.
There was a problem. Please refresh the page and try again.