It's Health & Safety gone off piste! The Jump's roll call of snaps, scrapes and bone breaks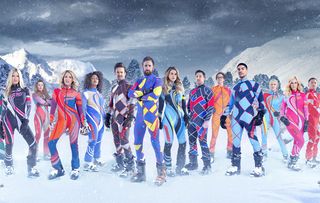 (Image credit: steve Brown)
The Jump returns to Channel 4 on Sunday with 14 new contestants ready to go downhill faster than they've ever gone before. Will they emerge with fewer injuries than 2016's disastrous series?
The Jump returns to Channel 4 on Sunday, with 12 more brave celebrities ready to plunge themselves down slopes, ski ramps and skeletons and triumph in the high-risk alpine contest.
Channel 4 says it thoroughly reviewed safety procedures following 2016's catalogue of injuries, where SEVEN celebs had to withdraw from The Jump due to mishaps...
Already, former 2010 Big Brother winner Josie Gibson has hurt herself preparing for this series of The Jump.
According to TellyMix, Josie revealed: "I managed to sprain my knee while training in a dry ski centre, but luckily its healed quite quickly.
"People talk about how dangerous The Jump can be, but I once broke my wrist while doing a combat roll over my sofa, so you can really get injured anywhere."
She said of her time on The Jump so far: "I'm having the time of my life. I laugh every single day. My cheeks are aching by the time I go to bed.
"I've never even looked at a ski before doing this show, but I like to to think I'm becoming a bit of a pro now. One of the best things is the scenery in Austria – I cried when I saw how beautiful it was."
Let's hope that Josie and her 13 other competitors aren't crying for any other reason when the show launches on Sunday at 7.30pm.
Get the What to Watch Newsletter
The latest updates, reviews and unmissable series to watch and more!