The Voice 2014: Femi Santiago impresses as Nu-tarna star returns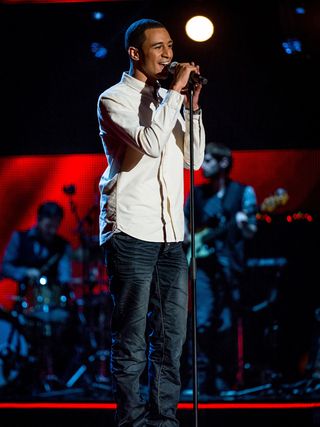 The fifth of The Voice 2014's blind auditions shows brought with it another batch of potential stars - among them Londoner Femi Santiago.
The 27-year-old employment officer revealed on Saturday night's show that he had had a rough ride in recent years, even finding himself homeless at the age of 19 - and admitted that at one point he considered taking his own life.
"Being on the streets is like being in a place where you don't exist," he explained.
"It was the most difficult thing I have ever faced in my life. I was either going to end my life at that point, or do something about it. I chose to do something about it."
And Femi - who is now married with an eight-month-old son - took his first step on the road to potential singing stardom when he wowed the coaches with his version of Stevie Wonder's Ma Cherie Amour, winning a place on will.i.am's team.
Although the rapper was the only coach to turn round for the singer - and left it until the last moment - the others could not hide their enthusiasm for his vocals.
"It sounded like you could sing that song all day long," Ricky Wilson told him. "It was the right song for you."
Also making a big impression on Saturday night's show were waitress Jade Maryjean Peters - whose smouldering vocals enticed all four coaches to turn round - and Mancunian Chris Royal, who won praise for his slowed-down take on Avicii's Wake Me Up.
Jade, who eventually joined Kylie's team, not only impressed with her vocals but also her stunning good looks - although Ricky was so taken by her voice he refused to look at her until she had finished singing, while a speechless Tom Jones could only ask: "What's your name again?"
Meanwhile there was a familiar face at the auditions in the shape of Elesha Paul Moses, who made it as far as the battle rounds in 2013 as one half of duo Nu-tarna.
The pair - who were part of Team will.i.am - struggled in the battle rounds last year after going head to head with Cleo Higgins and struggling for supremacy - with Jessie J telling them: "I have a headache...I feel like you are all going to walk off this stage with a sore throat."
However this time around things were very different as the mum of one landed herself a place on Tom Jones's team - who told her: "When you started off I thought maybe the key was a little low for you, but I liked it because it was breathy and human sounding."
However there wasn't such good news for another of 2013's hopefuls, Nick Dixon, who missed out on a place in the next stage for the second year running.
The Voice UK continues with the sixth round of blind auditions next Saturday night.
Get the latest updates, reviews and unmissable series to watch and more!
Thank you for signing up to Whattowatch. You will receive a verification email shortly.
There was a problem. Please refresh the page and try again.