Viewers hail Gordon Ramsay's amazing turnaround on The Nightly Show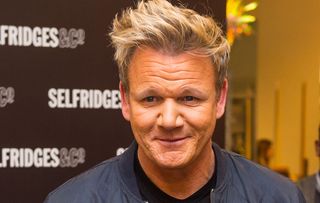 (Image credit: PA Wire/PA Images)
After Monday's woeful debut on The Nightly Show, viewers heaped praise on Gordn Ramsay's performance on Tuesday's edition
Viewers have warmed to Gordon Ramsay as host of The Nightly Show in a dramatic turnaround after slating his debut.
The TV chef was met with a frosty reception when he took over the programme on Monday night, leading viewers to joke that it was his poor performance that led to a technical fault.
But a day later, his chef-based quips and food-themed games won him legions of fans.
After joking that it was fellow chef Jamie Oliver who pulled the power plug on the show on Monday, he welcomed special guests John Lydon, Sally Phillips and an unsuspecting pizza delivery guy.
Keeping with the kitchen theme, he put Lydon through a taste test, spoke to Phillips about cooking for a family, and bought pizza for the audience.
One happy viewer posted on Twitter: "Well as for the nightly show, I'm surprised to say I think Gordon Ramsey's week is the best yet! I am actually enjoying it!!"
@GordonRamsay I think you're doing a great job on the nightly show made me laugh really hard tbh
— cait (@lolcaitlinnnn) March 28, 2017
Viewers particularly enjoyed the moment he ordered pizza to the live studio, opening the door to bewildered delivery guy Oscar, who bravely stepped on to the stage during his first night on the job.
Reviews showed a dramatic turnaround from Monday night, when viewers described Gordon's performance as 'absolutely awful' following a week with Dermot O'Leary at the helm.
The Nightly Show returns to ITV at 10pm on Wednesday.
Get the latest updates, reviews and unmissable series to watch and more!
Thank you for signing up to Whattowatch. You will receive a verification email shortly.
There was a problem. Please refresh the page and try again.