True Blood, Silicon Valley on to air TBS, TNT
Can HBO extend its impressive library to cable TV?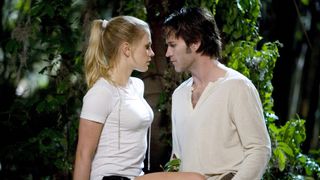 (Image credit: HBO)
Warner Bros. Discovery continues to make moves, this time with an experiment to see whether they can utilize some of HBO's biggest hit series in recent years and give them a new home on WBD-owned TBS and TNT. The experiment is set to begin with True Blood and Silicon Valley airing immediately following coverage of NBA All Star events on Saturday, February 18.
After the initial debut, Silicon Valley will move to a regular time slot on Sundays at 10 pm ET/PT on TBS while True Blood will air weekly on Mondays at 10 pm ET/PT on TNT.
Of all the HBO original series to make the jump, it makes sense for True Blood and Silicon Valley to be the test pilots for this WBD experiment. True Blood ended its seven-season run in 2014 while Silicon Valley ran for six seasons and wrapped in 2019, making them recent enough to still be relevant and interesting for anyone who didn't catch them during their original run.
While it might seem like an unusual move, especially given that both shows will need to be edited heavily to fit cable TV standards, it's not unheard of for premium shows to land on cable TV after their initial runs. HBO original series Sex and the City and The Sopranos both went into syndication and aired on cable TV; Sex and the City marathons air on E! Network at any given time. Titans also made the jump from HBO Max to TNT in recent years.
If we're being honest, though, the heavy editing to bring Sex and the City to cable TV sometimes gets in the way of telling the story the way it was originally envisioned, so it will be interesting to see how they manage to bring True Blood and Silicon Valley to cable TV without disrupting too much of the story.
True Blood was known for its often outlandish and over-the-top sex scenes and its creature violence (it's a show about vampires, werewolves and other otherworldly creatures, after all), while Silicon Valley's colorful language might need to be cleaned up a bit, even for the post-10 pm time slot.
Since there are no plans to develop new original series for TBS and TNT (opens in new tab) at this time, moving library shows from HBO to WBD-owned cable TV networks makes sense. If it works, we can likely expect to see other HBO series making the jump in the future.
Get the What to Watch Newsletter
The latest updates, reviews and unmissable series to watch and more!
Editorial Content Producer
Sarabeth joined the Watch to Watch team in May 2022. An avid TV and movie fan, her perennial favorites are The Walking Dead, American Horror Story, true crime documentaries on Netflix and anything from Passionflix. You've Got Mail, Ocean's Eleven and Signs are movies that she can watch all day long.
When she's not working, Sarabeth hosts the My Nights Are Booked Podcast (opens in new tab) and blog (opens in new tab) dedicated to books and interviews with authors and actors. She also published her first novel, Once Upon an Interview (opens in new tab), in 2022.