EastEnders spoilers: Zack Hudson faces his BIGGEST fear
Airs at 7:30 pm on Tuesday 21 March 2023 on BBC One.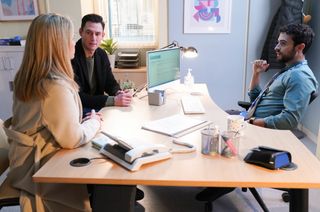 (Image credit: BBC)
Zack Hudson has a big decision to make after his appointment at the HIV clinic in Tuesday's episode of EastEnders (7:30 pm. see our TV Guide for full listings).
Zack Hudson is struggling to keep it together after Whitney Dean's unexpected kiss the day before.
Although there's nothing he'd like more than to be together with Whitney, Zack has still not told her he has HIV and he's terrified how she'll react.
When he pulled away from her kiss, Whitney was devastated, thinking he'd rejected her, not knowing that he's struggling with a secret.
With an appointment booked at the HIV clinic to review how he's doing, Zack's head is in a spin.
After confiding in Sam Mitchell about his HIV status, Zack has been grateful for her support. When she offers to go to the clinic with him, he's relieved as it's obvious that he's not coping.
At the clinic, Zack is tongue tied but Sam asks all the right questions for him, quizzing on the doctor on whether Zack can have sex and if he can try for a baby with his partner.
After returning from the clinic, Sam advises Zack to face Whitney and tell her the truth about his diagnosis.
Zack steels himself to finally admit what he's been dealing with these past few months.
Will he go through with it and if he does, what will Whitney say?
Jay Brown is furious with Emma Harding for running out on her daughter Lola Pearce on Mother's Day!
Lola has enough to cope with dealing with her treatment for her brain tumour. He's been worried all along that Lola will overstretch herself trying to reconnect with the mum that abandoned her as a child.
When Lola confesses to her husband that she's worried that after reconnecting with Emma after so many years, she's lost her mum yet again, Jay gets on the case.
Determined to find out what Emma is playing at, he gets in contact with her and tells him to meet her at the car lot.
After a sheepish Emma turns up, he tells her that she either needs to stick around and commit to being a mum to Lola and grandma to Lexi, or to leave now and never show her face again!
What will Emma do?
Chelsea Fox thinks a night out at The Albert with housemates Felix Baker and Finlay Baker is in order!
But it's not all about having fun, as she's aware that Whitney Dean needs to sort through her issues with Zack Hudson and she wants to give them the house to themselves.
After Chelsea arrives at the Albert with the Baker brothers, she's miffed to discover that Ravi Gulati is there. Not only that, he's joined by a mystery blonde and her jealousy is stoked!
Wanting to play Ravi at his own game, Chelsea comes up with a plan but it doesn't seem like Ravi is about to take the bait. Instead, he leaves the pub with the mystery woman, infuriating Chelsea!
She heads outside for a bit and much to her surprise she finds Ravi there alone. He tells her he was waiting for her and offers to give her a spin on his motorbike...
Will she fall for his games?
Also, Stacey Slater and Eve Unwin interrupt a suspicious looking meeting between Freddie Slater and Rocky Cotton. It's not long before they find out EXACTLY how they've been making all their extra cash and they are stunned!
EastEnders continues on BBC One on Wednesday at 7:30 pm.
Get the What to Watch Newsletter
The latest updates, reviews and unmissable series to watch and more!