'Annika' — start date, cast and everything you need to know about the new adaptation
'Annika' is a new crime drama starring Nicola Walker.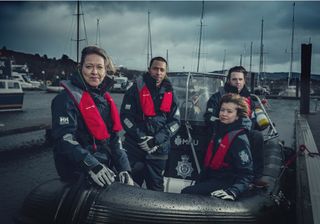 (Image credit: UKTV)
Annika has been commissioned by Alibi, and the new crime series is adapted from the hugely successful Radio 4 drama by Nick Walker. The TV adaptation stars Nicola Walker in the titular role of DI Annika Strandhed, reprising her role after providing Annika's voice for the radio drama.
Emma Ayech, channel director for Alibi says: "We're so excited to bring Annika to life in a brand-new TV adaptation. Nicola Walker is a fantastic lead, making this series a brilliant addition to our growing portfolio of UKTV Original dramas on Alibi."
Here's everything you need to know...
Annika release date
Annika starts on Tuesday 17th August at 9pm on Alibi, and there'll be six episodes in total.
Phillippa Collie Cousins, UKTV drama commissioner adds: "Our new detective series Annika is a breath of fresh air: a whip-smart detective, great cases and the glorious Scottish scenery. Nicola Walker has been integral in helping us develop her character, creating a maverick female detective who not only has Norwegian ancestry, but is dryly funny, a chaotic parent and a fish out of water. We're also really excited to have a diverse writer's room with lead writer Nick Walker and emerging talents Frances Poet and Lucia Haynes."
It has not yet been revealed if Annika will be shown in the US.
What is Annika about?
Annika follows the sharp, witty and enigmatic DI Annika Strandhed (Walker), as she heads up a new specialist Marine Homicide Unit (MHU) that is tasked with investigating the unexplained, brutal, and seemingly unfathomable murders that wash up in the waterways of Scotland.
Throughout the series, Annika makes the audience her confidante by breaking the fourth wall and sharing her wry observations on the case and her life, as she manages her brilliant yet unconventional team, and her equally brilliant yet complex teenage daughter.
Speaking about the role, Nicola Walker told What to Watch: "The show is set in Glasgow, and it's a Marine Homicide Unit. It's dangerous to bill it as a crime drama, because it's a lot more than that, and the unusual thing about it is that my character breaks the fourth wall constantly, so the audience is very much the other character in the show — you're all in it too!"
Who stars in Annika?
Nicola Walker plays DI Annika Strandhed. Speaking about her new role, Nicola said: "Annika navigates the world, her work and her home life in fabulously unique and unusual ways and I can't wait to see her come to life in Scotland."
Nicola has recently starred in Unforgotten and The Split which are both available to watch on-demand now.
Other cast includes Silvie Furneaux as Annika's daughter Morgan, as well as some other familiar faces from the world of TV making up Annika's team...
Jamie Sives (Guilt) plays Annika's second-in-command DS Michael McAndrews, who is not only a trained diver but also still has his nose out of joint after losing out on the role to head up the Marine Homicide Unit when Annika pipped him to the post. "She's waltzed back into Glasgow and taken his job," says Jamie. "He's in a bit of a huff."
Katie Leung (The Nest) appears as the team's tech expert DC Blair Ferguson, who has a dry sense of humour and a formidable intellect. "Blair's the data analyst, so she is on the computer a lot!" says Katie. "She really admires Annika and maybe sees her in that kind of position when she is older."
Ukweli Roach (Blindspot) stars as DS Tyrone Clarke, a young and ambitious officer who acts first and stops to ask questions later. "He's always trying to impress, sometimes a little too hard," admits Ukweli, "But he certainly looks up to Annika."
Is there a trailer for Annika?
Yes, a short trailer for Annika has been released on social media, where Alibi wrote: "August is going to be a great month and there is only one reason why: #Annika comes to Alibi".
August is going to be a great month and there is only one reason why: #Annika comes to Alibi ⛴Starting Tuesday 17th August at 9pm, starring the one and only #NicolaWalker 😁@ukweliroach @kt_leung #JamieSives pic.twitter.com/6B0cb8w8uMAugust 2, 2021
In the trailer we're introduced to Nicola Walker as the titular character, including her fourth-wall breaking which will be frequent throughout the series. It doesn't give too much away but Annika describes solving a murder as "a slippery business".
Get the latest updates, reviews and unmissable series to watch and more!
Thank you for signing up to Whattowatch. You will receive a verification email shortly.
There was a problem. Please refresh the page and try again.