Disney Plus price: What it costs in all the countries in which it's available
Here's what Disney Plus costs where you live.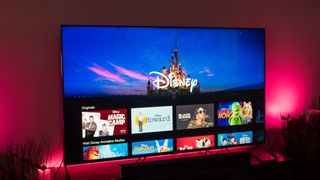 (Image credit: WhatToWatch.com)
Disney Plus price information currently is available in some 36 countries around the world. That's a small fraction of the nations on our little planet. But as Disney execs like to point out, Disney+ already reaches nine out of the 10 largest economies on Planet Earth. (And it's also the perfect streaming service if you want to test out Disney+ on Apple TV.)
And it's still not done yet.
The Disney Plus price structure is pretty simple. For the most part, you can opt to pay monthly, or you can pay for a full year all at once and save a little bit of money, effectively getting a couple months for free. There are a couple outliers where Disney+ has a deal with an existing service, like in Japan, but that's the exception to the rule.
We also so a bit of a change in the Disney+ price in 2021. Some countries — specifically Europe, Australia, New Zealand, and Canada — already saw the previously announced increase with the launch of the Star sub-brand on Disney+. Others — including the United States — didn't get theirs until March of 2021. (And some, like the UK, have a bit of a hybrid model, with the new, higher price already live for new subscribers, and current subscribers getting a six-month grace period.)
And the Disney Plus price largely follows this scheme: In the United States, it's now $7.99 a month, or $79.99 a year. (Having increased by $1 monthly and $10 annually on March 26, 2021.) In countries that use the Euro, it's 8,99 € a month, or 89,99 € annually. And so on and so forth. The amount may go up or down depending on the currency, which is normal when you're talking about prices in various countries, of course.
The United States also gets an extra bonus in the form of the Disney Bundle. That's the scheme that packages together Disney+, ESPN+ and Hulu, all for $13.99 a month. That single price essentially gets you all three streaming services for the price of two. And you can build things out from there. That default Disney Bundle price comes with the basic Hulu subscription services, which includes advertising on the on-demand content. But you can pay a little more to get rid of ads.
If you're really serious about making the most of your Disney Plus price, though, you should consider adding Hulu With Live TV. For $72 a month you'll get Disney+, ESPN+, and Hulu With Live TV — which also includes the on-demand content on Hulu. That's only $7 a month more than if you were to get Hulu with Live TV on its own, and that' s a deal that's tough to beat.
Disney Plus price all around the world
Here are the prices for Disney+ in the countries in which it is available. We'll update this list as more countries come online.
Note that this does not include the cost of any additional fees for Disney+ Premier Access content. That's separate per piece of content in addition to the monthly subscription fee.
Argentina (ARS$ 385/3.850)
Australia ($11.99/$119.99)
Austria (8,99 €/89,99 €)
Belgium (8,99 €/89,99 €)
Brazil (BRL$ 27,90/279,90)
Canada ($11.99 CAD/$119.99 CAD)
Chile (CLP$ 6.500/64.900)
Colombia (COP$ 23.900/239.900)
Costa Rica (USD$ 5,99/59,99)
Denmark (79 DKK/790 DKK)
Finland (8,99 €/89,99 €)
France (8,99 €/89,99 €)
Germany (8,99 €/89,99 €)
Greenland (59 DKK, 589 DKK)
Iceland (8,99 €/89,99 €)
India (As Disney+ Hotstar, Rs 299/Rs 1,499)
Indonesia (As Disney+ Hotstar, Rp 39,000/Rp 199,000)
Ireland (8,99 €/89,99 €)
Italy (8,99 €/89,99 €)
Japan (¥700)
Luxembourg (8,99 €/89,99 €)
Monaco (8,99 €/89,99 €)
Mexico (MXN$ 159/1.599)
Netherlands (8,99 €/89,99 €)
New Zealand ($11.99/$119.99)
Norway (89 NOK/890 NOK)
Panama (USD$ 5,99/59,99)
Peru (PEN$ 25,90/259,90)
Portugal (8,99 €/89,99 €)
Singapore (S$11.98/$119.98)
Spain (8,99 €/89,99 €)
Sweden (89 SEK/890 SEK)
Switzerland (12.90 CHF/129 CHF)
United Kingdom (£7.99/£79.99)
United States ($6.99/$69.99)
Uruguay (USD$ 7.49/74.99)
Disney+ is the online streaming home for all things Disney, as well as everything in the Star Wars universe. It's also where you'll find the bulk of the Marvel catalog — both old favorites from the 1980s as well as the latest from the Marvel Cinematic Universe. Disney+ also is home to Pixar, of course, as well as NatGeo. In addition to full catalogs worth of content, Disney+ also has new exclusives like The Mandalorian, Loki, WandaVision, The Bad Batch, and more.
Phil spent his 20s in the newsroom of the Pensacola (Fla.) News Journal, his 30s on the road for AndroidCentral.com and Mobile Nations, is the Dad part of Modern Dad, and is editor of WhatToWatch.com.
Get the latest updates, reviews and unmissable series to watch and more!
Thank you for signing up to Whattowatch. You will receive a verification email shortly.
There was a problem. Please refresh the page and try again.