Girls5eva season 2: release date, plot, cast, trailer and everything we know about the comedy series
The group got back together, but now can they make a successful album?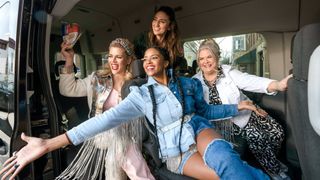 (Image credit: Heidi Gutman/Peacock)
After a triumphant first season, Girls5eva is back with all-new episodes on Peacock. This shouldn't come as much of a surprise given Rotten Tomatoes gave season 1 a 98% "Fresh" rating and the show was nominated for an Emmy last year.
As with most things Tina Fey produces, Girls5eva mixes a unique brand of comedy and wit to get fans invested in the fictional lives of the characters. While the series has its incredibly silly moments, they don't distract viewers from wanting to see each of the "underdog" personas win on screen.
Here's everything we know about Girls5eva season 2.
When is the next Girls5eva season 2 episode?
Girls5eva season 2 premiered on Thursday, May 5 on Peacock with three new episodes. The remaining episodes became available one at a time on the following Thursdays. Fans of the show may think the season just blew by because we've already reached the season 2 finale, which debuted on Thursday, June 9.
Below you'll find an episode guide for season 2.
Episode 1: "Album Mode"
"When Girls5eva lands a record deal, Dawn, Wickie, Summer and Gloria discover how much they're willing to sacrifice for the opportunity."
Episode 2: "Triumphant Return to the Studio"
"Dawn worries her status as the group's songwriter is in jeopardy. Wickie panics over an unflattering paparazzi photo. Summer struggles to officially split from Kev."
Episode 3: "Who U Know"
"The women try to get heat by guest-starring in Stinker's latest music video. Dawn has doubts about her son entering the business. Wickie assumes the role of Girls5eva's publicist. Summer pushes Gloria to flirt."
Episode 4: "Can't Wait 2 Wait"
"The women try to get heat by guest-starring in Stinker's latest music video. Dawn has doubts about her son entering the business. Wickie assumes the role of Girls5eva's publicist. Summer pushes Gloria to flirt."
Episode 5: "Leave a Message If You Love Me"
"Gloria investigates a mysterious musician. Dawn fights plagiarism. Summer denies having work done."
Episode 6: "B.P.E."
"Dawn and Wickie vie for the same solo on the album. Gloria and Summer attempt to clean up their pasts by tracking down copies of an old prank show they made for 'Lifetime Raw.'"
Episode 7: "Returnity"
"With their album about to drop, Wickie takes career advice from a 'normal.' Dawn is alarmed by mysterious symptoms. Gloria tries to ignore thoughts about other women."
Episode 8: "Tour Mode"
"As Girls5eva competes to be the opening act on Collab's world tour, the women grapple with the feasibility of leaving New York."
Girls5eva season 2 plot
As Peacock describes it, the general premise of the Girls5eva series is the following:
"A one-hit-wonder girl group from the 90s that was churned through the pop music machine reunites to give their dreams another shot. This time they'll try again on their own terms."
In regards to this new season, fans will recall that at the end of season 1 the group had temporarily disbanded after a disastrous performance of the national anthem at an NHL game. Dawn opted to write songs and sell them to other artists, Gloria became a dentist for touring musicians, Summer took a job making ads for shapewear and Wickie chose to remain a judge on American Warrior Song. After a chance encounter at the Jingle Ball, the women had a conversation and decided to risk it all by committing to making their group work.
Now going into season 2, the series follows the women to see if they can not only coexist in a "girl group," but if they have what it takes to create an entirely new album. An album that will earn them more than just one hit.
Girls5eva season 2 cast
All the major cast members from Girls5eva season 1 have returned to again make viewers laugh and occasionally tap their feet to whatever songs are featured on the episodes. Leading the bunch is Grammy-Award-winning Sara Bareilles starring as Dawn.
Joining her as Wickie is Renée Elise Goldsberry. Goldsberry has received both a Tony and Grammy Award for her role in Hamilton and will appear in the upcoming Marvel series She-Hulk.
Paula Pell is also back along for the ride as Gloria. Pell was a long-time writer for Saturday Night Live and voices a number of characters in Netflix's Big Mouth, including Barbara Glouberman.
Last but certainly not least, rounding out the main cast is Busy Philipps. Philipps has been in a number of projects such as Cougar Town, Damage Control and White Chicks.
Outside of the usual suspects, a number of guest stars are featured in this new season. Hoda Kotb (Today With Hoda and Jenna), Tim Meadows (Mean Girls), Drew and Jonathan Scott (Property Brothers) and more are slated to make appearances.
Girls5eva season 2 trailer
We have to admit, we were chuckling quite a bit watching the trailer, so we've built up a little anticipation about the new season of Girls5eva.
How to watch Girls5eva season 2
Girls5eva is a Peacock original series. Those hoping to catch new episodes will need to have subscriptions to Peacock Premium to view the entire new season. Currently, the platform offers a $4.99/month subscription and a $9.99 Premium Plus ad-free subscription.
For those that have never checked out the series, but would like to give a shot, Peacock is currently streaming the very first episode for free. If you find the show to be everything you hoped it would be, then with a few clicks you can subscribe to the service. With other shows on Peacock like Below Deck Down Under, Bel-Air and the Saved by the Bell reboot, you may find a subscription is well worth the money.
Those living in the UK have the opportunity to check out Girls5eva season 2 by simply utilizing their Sky TV or NOW TV subscriptions. Both options currently grant subscribers access to Peacock content.
Get the What to Watch Newsletter
The latest updates, reviews and unmissable series to watch and more!
Terrell Smith has a diverse writing background having penned material for a wide array of clients including the federal government and Bravo television personalities. When he's not writing as Terrell, he's writing under his pseudonym Tavion Scott, creating scripts for his audio drama podcasts. Terrell is a huge fan of great storytelling when it comes to television and film. Some of his favorite shows include The Crown, WandaVision, Abbot Elementary and Godfather of Harlem. And a fun fact is he's completely dialed into the TLC 90 Day Fiancé universe.