Next Level Chef season 2 US: next episode, everything we know about the cooking competition
Gordon Ramsay's original concept cooking show is back for a second course.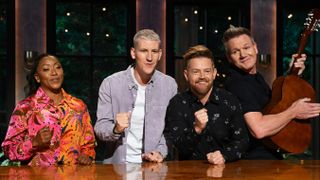 (Image credit: Fox)
Reality cooking competitions are kind of like fast food restaurants these days — they're everywhere! In order to make waves, you have to do something special to capture the attention of viewers and that's what celebrity chef Gordon Ramsay has done with Next Level Chef on Fox.
With a team of mentor chefs watching out over a talented group of home cooks, line cooks, food truck owners and social media stars, Next Level Chef season 2 re-introduces the three-level cooking stage with ingredients and challenges that match each level. From the opulent top level to the bottom level's basement, competitors are challenged to work with whatever they are provided with in hopes of moving up to the top level.
Here's what we know about Next Level Chef season 2.
Next episode of Next Level Chef season 2
Next Level Chef airs Thursdays at 8 pm ET/PT on Fox. It's available to stream the next day on Hulu.
The March 16 episode is titled "Sugar and Tea and Rum" and here's the episode description: "Competitors will need to use skill to cook an alcohol-based dish in the episode! When the platform drops, each will grab an alcohol and a protein and incorporate it among their dishes. One chef's spirits will not be lifted and will be eliminated."
This week's episode features special guest Nathan Evans.
The UK has its own version of Next Level Chef.
Next Level Chef season 2 episode guide
Keep track of each week's culinary adventure with our episode guide:
Next Level Chef season 2 episode 1: "A Next Level Welcome"
"Contestants begin their journey and look to make their first impressions in their respective teams."
Next Level Chef season 2 episode 2: "Next Level Guac Star"
"The chefs each prepare a dish from Mexico; one contestant is eliminated."
Next Level Chef season 2 episode 3: "No Pain, No Grain"
"Chefs are to take a humble sandwich and making it an upscale, Next Level Sandwich! All the ingredients packed between pieces of bread should be packed with flavor and a thing of beauty. One chef will be eliminated."
Next Level Chef season 2 episode 4: "Rice Guys Finish Last"
"The chefs are challenged to make a dish from the most popular cuisine across the United States. They will have 45-minutes to create a next level Chinese-inspired dish."
Next Level Chef season 2 episode 5: "Game Time"
"This challenge will be the most difficult test of the season as the chefs will be cooking with game. Game such as wild boar and elk has to be cooked with care and attention, so who will step up to the plate and who will be eliminated."
Next Level Chef season 2 cast
Next Level Chef features three mentors — celebrity chefs Gordon Ramsay, Nyesha Arrington and Richard Blais — along with a bevy of up-and-coming contestants who range from line cooks and home cooks to food truck owners, social media stars and hobby chefs looking to make it to the next level.
Gordon Ramsay serves as host, mentor and one of the series' executive producers. Ramsay, known for his hit series Hell's Kitchen, is one of the most widely known and recognized celebrity chefs on the planet. His trademark in-your-face outbursts are known to strike fear in the hearts of competitors, but behind the gruff exterior he's a very nice guy who does a lot to support the chef community.
Nyesha Arrington was a famous chef long before appearing on Top Chef and Chef Hunter in 2011. Arrington was the Executive Chef at the Wilshire Restaurant from 2011-2013 and was named a Rising Star by Brad Johnson. Her longtime mentor, Chef Josiah Citrin, saw her enormous potential early on in her career and made her his saucier and later asked for her help in opening two of his Santa Monica restaurants.
Richard Blais is best known from his time on Top Chef, both as a runner-up in season 4 and as the winner of Top Chef: All Stars. He's also a frequent guest judge on a variety of Food Network series. Blais trained under Thomas Keller, Daniel Boulud and Ferran Adrià. He operates three restaurants: Four Flamingos, Juniper & Ivy and The Crack Shack.
Next Level Chef season 2 plot
Here's the premise of Next Level Chef from Fox:
"Produced by Studio Ramsay Global and FOX Alternative Entertainment, Next Level Chef is the next evolution in cooking competitions, as Ramsay has designed a one-of-a-kind culinary gauntlet, set on an iconic stage like you've never seen. Over three stories high, each floor contains a stunningly different kitchen. From the glistening top floor to the challenging bottom of the basement, the ingredients match the environment, because Ramsay believes the true test of great chefs is not only what they can do in the best of circumstances, but what kind of magic they can create in the worst!
"With a level playing field, Ramsay opened the competition and scoured the country for the very best line cooks, home chefs, social media stars, food truck owners and everything in between, all competing against one another with the goal of finding the food world's newest superstar!
"Joined by two elite names in the food world, chefs Nyesha Arrington and Richard Blais, Ramsay and his co-mentors will leave no stone unturned, as they each recruit a group of the talented chefs and take them under their wings. Ramsay and his friends will attempt to bring out the very best in their cooks, as they all try to find 'the one.'
"Although he now sits unrivalled at the top of the culinary world, Ramsay started at the bottom, washing dishes in a local takeout restaurant. He firmly believes that as long as a chef has the drive, talent and perseverance, he or she can make that climb to the top. Creativity, consistency and cunning are the recipe for success to make it to the next level, as the competitors adapt to the challenges waiting for them. Only one can walk away a Next Level Chef and win a life-changing $250,000 grand prize with a one-year mentorship from Gordon, Nyesha and Richard."
Next Level Chef season 2 trailer
Here's a peek at Next Level Chef season 2:
Is there a more coveted spot than after the @SuperBowl? 🏆Don't miss the Season 2 premiere of #NextLevelChef! pic.twitter.com/N6NiRPuSaIFebruary 5, 2023
How to watch Next Level Chef season 2
Next Level Chef season 2 airs on Fox, which is included with most cable providers. If you've cut the cord, you can access the channel through live TV providers like FuboTV, Hulu Plus Live TV, Sling TV and YouTube TV.
The latest episodes of Next Level Chef are also available to stream the day after they air live on Hulu. Additionally, past seasons of the show are on the platform.
Get the What to Watch Newsletter
The latest updates, reviews and unmissable series to watch and more!
Editorial Content Producer
Sarabeth joined the Watch to Watch team in May 2022. An avid TV and movie fan, her perennial favorites are The Walking Dead, American Horror Story, true crime documentaries on Netflix and anything from Passionflix. You've Got Mail, Ocean's Eleven and Signs are movies that she can watch all day long.
When she's not working, Sarabeth hosts the My Nights Are Booked Podcast (opens in new tab) and blog (opens in new tab) dedicated to books and interviews with authors and actors. She also published her first novel, Once Upon an Interview (opens in new tab), in 2022.