Rise and Fall: release date, host, location, contestants and all we know about the new reality show
Rise and Fall: everything you need to know about the new show from the creators of The Traitors.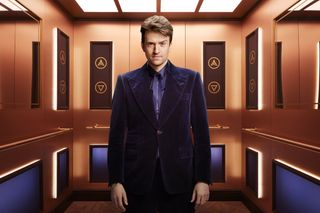 (Image credit: Channel 4)
New reality show, Rise and Fall, will be packed with power struggles, plotting and secret alliances when sixteen contestants jostle to rise to the top (quite literally) in a bid to win £100k.
The 18-part series has been created by the team behind BBC One's huge TV hit, The Traitors, which was hosted by Claudia Winkleman.
At the helm of Rise and Fall and playing the role of 'mischievous ringleader' is Radio One DJ, Greg James.
Here we tell you everything you need to know, from format and location, contestants and what Greg says about it...
Rise and Fall — when is it on air?
The show will begin on Sunday, March 19, 2023, at 9 pm on Channel 4 and will air on weeknights from Sunday to Thursday.
See our TV Listings page as times may vary in regions.
What is the format and how will it work?
The Grafters complete a series of challenges to build a prize fund that one of the Rulers will eventually win and the Rulers must vote for which of the Grafters they want to join them in the penthouse.
"A lot of the tasks are physically challenging, grim and grotty," says Greg. "The Rulers will see how far they can push the Grafters to make more money for the prize fund. However, if they push them too hard, they might find themselves toppled from power."
Rise and Fall — what is the location and where is it filmed?
The show is filmed in a converted high-rise building in central London right next to St James underground station. Rulers live in an opulent penthouse complete with stunning views across the capital, luxurious bedrooms, plush living areas with a bar and a rooftop terrace boasting a hot tub.
Meanwhile, on the floors below, the Grafters must exist in a grim windowless basement, sleep in a shared dormitory and eat meals of bland gruel.
Rise and Fall —who are the contestants?
The 16 contestants come from all walks of life and include a trainee nurse, an established businessman, a young aristocrat and a Young Conservative member. Channel 4 boss, Ian Katz, has described the show as, 'a reality version of the movie Parasite.'
Meet the contestants of Rise and Fall
Jack
Age: 28
Location: Hertfordshire
Occupation: Builder
Hertfordshire-based builder Jack works in construction but also plays semi-professional football. He considers Lionel Messi to be a good leader as he can "lead a team by himself and carry them over the line, like at the World Cup".
Jack says, "I'm up for anything and I don't take it too seriously. I'm a winner. I'm not here to come second or make friends. I've got my friends and I play to win. It's as simple as that so we'll see what happens."
Joanna
Age: 50
Location: Suffolk
Occupation: Interior designer
Interior designer Joanna grew up in Suffolk, where she spent time at her grandparents' stately home. When the pandemic hit, she went to Greece on an adventure.
Joanna considers Margaret Thatcher to be a great leader, describing her as "a very strong woman with balls of steel".
Does she thinks she's a winner? Joanna says, "I'm strong, physically and mentally. I'm very energetic so throw anything at me and hopefully, I'll be capable. I like to rise to any occasion thrown at me!"
Cheryl
Age: 40
Location: Liverpool
Occupation: Trainee nurse
Liverpudlian trainee nurse Cheryl is a mature student, having previously been a support worker, working with adults and children. She considers herself to be a "fabulous leader" because she likes things done her way.
"I listen, I like to take it all in and we can work together. I'll work with you so long as you work with me," she says.
As for how she'll win Rise and Fall, Cheryl says, "I like to bring everyone together, but I also like to do my own thing. I don't like seeing anyone struggling so I know I'm going to be very compassionate about those scenarios. But I also like to be a winner, so long as things go my way, that's fine."
Prince
Age: 39
Location: Hertfordshire
Occupation: Postal worker
Prince is a postal worker from Hertfordshire, however he was born and raised in Sierra Leone. He describes his upbringing as challenging but believes that while it was harsh, it set him up for success.
He considers his Uncle Frank to be a great leader, saying that he's a "very disciplined and logical person".
As for why he could win Rise and Fall, Prince says: "I'm very focused when I decide to put my mind to something and I'm a very deep thinker. I don't follow the crowd. I'm an individual, I'm quite strong minded and I've got good willpower."
Ali
Age: 45
Location: Essex
Occupation: Entrepreneur
Ali is a hard-working businessman from Essex, where his restaurants have become celebrity hot spots.
He thinks Donald Trump makes for a great leader as he's a "don't-take-no-c**p kind of guy". He says, "The qualities I have that will make me win Rise and Fall are, I'm a great leader, I'm very organised and I can make people do what I want them to do."
Sophie
Age: 21
Location: Essex
Occupation: Politics student
Essex-based politics student Sophie is a member of the Young Conservatives, who has appeared as a regular commentator in the national media and is outspoken in her political views. She is also a footballer.
She considers Margaret Thatcher to be her "personal idol". She says, " I can win Rise and Fall because I'm really personable, a lot of people tend to gravitate to me. I'm a natural-born leader, I'm really strong and I don't care what anyone else thinks of me at all. I think I've got it in the bag."
Connor
Age: 27
Location: Kent
Occupation: Care home manager
Kent-based Connor began volunteering in the care sector at the age of 16 and knew that was what he wanted to do when he left school. He now works as a care home manager, caring for the elderly and those with disabilities.
He considers his mother to be a great leader, saying: "She's always whipped me into shape, she's never taken any c**p from anybody.
"She shows strength and she's also a diva like me. You have to have that element of sass and characteristic of being diva-ish. You've just got to be confident in how you deal with things."
On his winning tactics he says, "I'm good at analysing people and I think I'll be able to sniff out the weaker ones, the fake ones, all the manipulators and work my way up to the top."
Marina
Age: 18
Location: London
Occupation: Receptionist
London-based receptionist Marina currently lives at home with her parents. She dropped out of university to become an actor.
When asked who makes a great leader, Marina says that it's hard to choose a public figure as she's "never been led by a public figure". She says "I'm a good leader because I come with a lot of positive energy and I don't provide problems, I provide solutions. I'm quite sociable and I've got good communicative skills to get people on board and supporting me!"
Edmund
Age: 27
Location: Devon
Occupation: Account manager
Edmund is an account manager who descends from one of Britain's oldest aristocratic families – however, he says that he can find common ground with anyone.
"I think Ben Stokes is a great leader," he says. "He's somebody that doesn't mind doing the hard work but then is also somebody to look up to."
Edmund says, I"m happy to muck in and do the hard graft but also take a step back and organise and lead a team."
James
Age: 26
Location: Newport, Wales
Occupation: Employment coach
Employment coach James is passionate about fitness, running fitness classes alongside his day job. He considers Beyoncé to be an amazing leader, describing her as "a trailblazer" who's led "herself, women, men and the queer community to feel themselves, to be their best selves and to release their wiggle".
As for what makes him a great leader, James says that he's "trustworthy" and "extremely down to earth".
"I've been at the bottom and I also know what it feels like to be at the top with power," he says. "If I win and get to the top, I want to make sure that I win fairly and treat other people fairly, too. A leader needs to lead and not just be a boss."
Jeff
Age: 69
Location: London
Occupation: Entrepreneur
Described as an east End boy at heart, Jeff is an entrepreneur who began working at Sotheby's in the 1970s before setting up an art dealership. He is best known for appearing on Channel 4's Four Rooms and currently oversees and runs eight businesses.
He considers Winston Churchill to be a great leader, adding: "He had a sense of humour and you get nowhere in this world without a sense of humour."
As for why he could win Rise and Fall, Jeff says "The qualities that I believe would give me a fair chance of winning are my sense of humour and that sense of looking out for those below and giving them a chance, making sure that they can make a mistake, maybe two mistakes, but a third one and they're out. "
Sydney
Age: 24
Location: West Lothian, Scotland
Occupation: Delivery driver
West Lothian delivery driver Sydney is a single mum who is studying for a law degree. She hopes to work in the human rights sector.
She considers Marilyn Monroe to be one of the best leaders as "she's iconic and had the world in a chokehold during her time".
As for why she'll win the show, Sydney said that her best quality is that she's competitive and doesn't like to lose. "I can get on with anybody regardless of age, gender and the background they come from," she says.
Rachel
Age: 27
Location: London
Occupation: Influencer
Rachel is an influencer from London who is also an identical twin. She specialises in fashion and beauty content creation and says that if she has to, she'll put on an act to get to the top.
She thinks Ophra is a great leader and considers her to be inspiring, adding: "She obviously has her own TV show and she's a winner in all areas of life."
As for how she'll win the show, Rachel says she's very observant and social but very competitive. "I'm here to win. No one's going to take my spot, just saying."
Rishika
Age: 26
Location: Birmingham
Occupation: Communications officer
Rishika is a communications officer from Birmingham who grew up without great wealth, making her understand the value of money and the need to earn nice things. She runs a charity helping people who live in shoe poverty.
"A great leader is anybody who can take charge of any situation but also listen to anyone, so I think I fit the bill. I'm a great leader," she says.
As for how she'll win the show, Rishika says that she's "really outspoken" and "not afraid to take the lead".
Ramona
Age: 34
Location: Born in Germany, raised in London
Occupation: CEO
Ramona moved from Munich to London as a child and had to learn a new language – the reason for her desire to work hard in the business world, she says. She is currently the CEO of various hospitality and tech businesses.
She considers her husband to be a great leader, saying: "We work together. His leadership, skills and professionalism have really been something to look up to and together we are a power couple."
As for why she'll win the show, she says that she's working with so many people from different cultures and backgrounds and "can lead people using the knowledge and experience she's gained".
Matt
Age: 32
Location: The Midlands
Occupation: Nurse
Matt is a nurse from the Midlands who has dedicated his career to helping vulnerable members of society – however, after a decade on the frontline, he's becoming frustrated with social policy.
He says that his mother is a great leader and his role model, describing her as "one of the strongest, most empowering women" he knows. He says, "If I could be half the nurse – because she was a nurse as well – and half the parent to my two daughters that she was to me then I'm happy, I'm successful. I've achieved in life. She'll always be my rock."
Rise and Fall starts on Channel 4 on Sunday 19 March at 9pm and airs on weeknights from Sunday to Thursday.
Get the What to Watch Newsletter
The latest updates, reviews and unmissable series to watch and more!
Senior Writer for What's On TV, TV Times, TV & Satellite week, Whattowatch.com
Tess is a senior writer for What's On TV, TV Times, TV & Satellite and WhattoWatch.com She's been writing about TV for over 25 years and worked on some of the UK's biggest and best-selling publications including the Daily Mirror where she was assistant editor on the weekend TV magazine, The Look, and Closer magazine where she was TV editor. She has freelanced for a whole range of websites and publications including We Love TV, The Sun's TV Mag, Woman, Woman's Own, Fabulous, Good Living, Prima and Woman and Home.